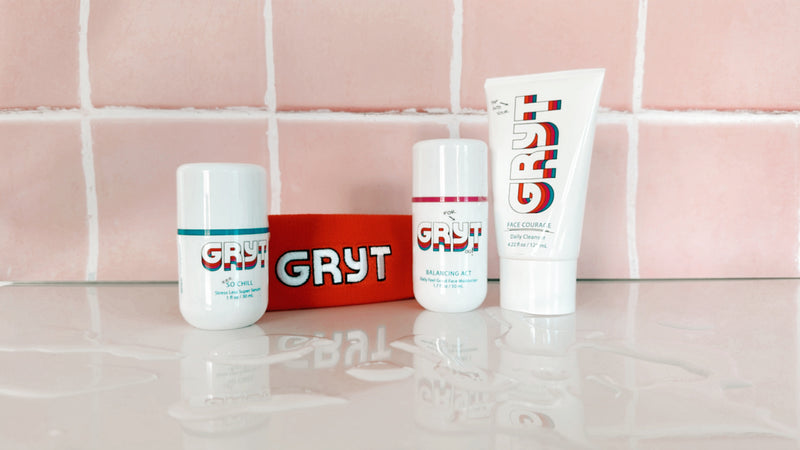 Hey there, fellow mom culture mamas!
Today, I want to introduce you to something that's been an absolute game-changer for both me and my kids, especially for my teens who are navigating the tricky waters of adolescence. You know what I'm talking about – skincare! 🌼
As our kids grow, so do their skincare needs. And that's where GRYT comes into the picture. I stumbled upon this skincare line a while back, and let me tell you, it's been a real lifesaver in my house.
Why GRYT?
First things first, let's talk about why I adore GRYT. As a mom of three, I'm always on the lookout for products that are not only effective but also safe and gentle for my kids. GRYT checks all those boxes and more.
1. Natural and Safe Ingredients
One of the things that caught my eye about GRYT is its commitment to using natural and safe ingredients. With all the pollutants and chemicals out there, I feel good knowing that my kids are putting clean, non-toxic products on their skin.
2. Age-Appropriate Formulas
GRYT gets that tweens and teens have different skincare needs than adults. Their products are specifically formulated for young, sensitive skin, addressing issues like acne, oily skin, and occasional breakouts without over-drying.
3. Expert-Backed
But what really sets GRYT apart is their team of experts. They've partnered with a fantastic panel of professionals to ensure that their products are not only safe but also beneficial for young skin. Meet the experts:
Product Highlights
Now, let's dive into some of my kids' favorite GRYT products:
- BALANCING ACT DAILY FACE MOISTURIZER: This daily moisturizer is a must-have. It helps keep acne at bay and maintains skin balance. The superhero ingredient here is jojoba oil, which tricks the skin into believing it has produced enough oil. It's pediatrician approved and dermatologist tested, so you know it's safe.
- FACE COURAGE DAILY CLEANSER: When it comes to facing the day with courage and confidence, this cleanser is the one. It's uniquely formulated with a low pH to remove surface oil and dirt, leaving skin refreshed, soothed, and ready to tackle anything that comes its way. Pediatrician Approved. Dermatologist Tested.
- SO CHILL STRESS LESS SUPER-SERUM: This amazing serum is all about calming the skin overnight. It leaves skin clearer and more soothed, thanks to salicylic acid for pimple prevention, curcumin, and licorice root for combating inflammation and redness. Plus, it contains the GRYT Calming Complex, featuring stress-reducing ashwagandha, oil-regulating jojoba, and pore-minimizing niacinamide. The result? You wake up looking clearer and glowier. Pediatrician Approved. Dermatologist Tested.
- THE GRYT KIT: For the complete GRYT experience, check out "The GRYT Kit" featuring all three products. It's a fantastic way to kickstart their skincare journey and help them establish a routine.
A Win-Win for Everyone
As a mom, I'm all about finding products that make our lives easier and healthier. GRYT has become a staple in our home because it's not just about skincare; it's about instilling good habits and confidence in my kids as they grow.
So, if you're on the hunt for skincare solutions that are as mom-approved as they are teen-friendly, do yourself a favor and check out GRYT. It's been a real game-changer in our household, and I'm sure you'll love it too!
Remember, we're all in this together, supporting one another through the ups and downs of this incredible journey we call motherhood. Let's raise good humans, inside and out! 💕
Please use code: MOMCULTURE15 to get 15% off your GRYT order for your fav little tweens and teens
With love and GRYT, Sarah Head Mama at Mom Culture