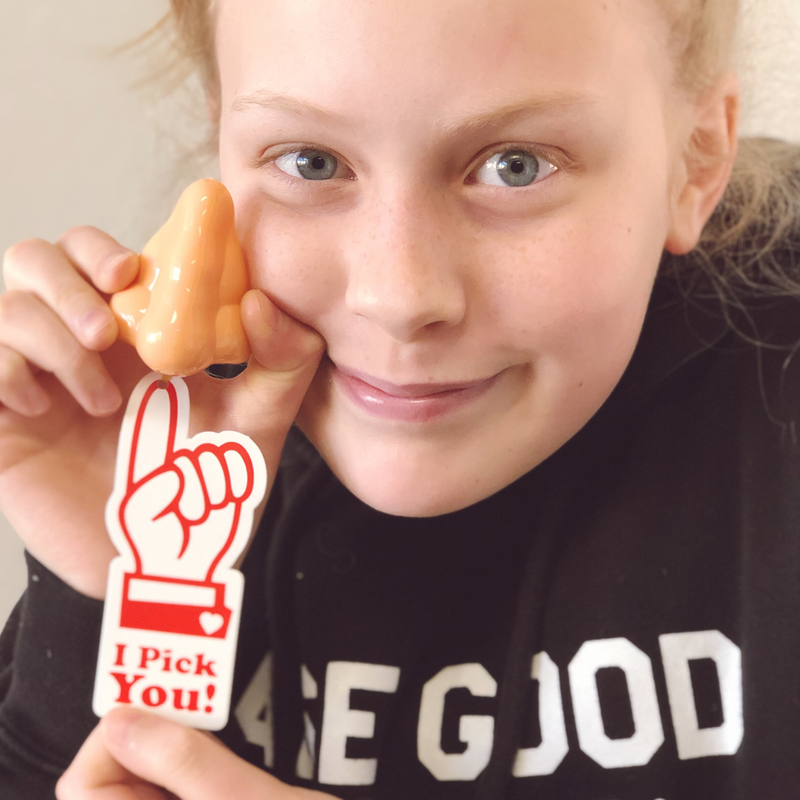 As a busy mom of three, I try to get a jump start when and where I can especially with holidays like Valentine's Day.  Having three kids means three times the cards, treats and goodies not to mention extra parties like Girl Scouts so this mama usually prepares for Valentine's starting in January.
Over the years, we'd normally just pick up the current character favorite for each kid in an easy pack from Target add a little treat and be done but as they've gotten older times are a changing.  Of course, my Kinder babe is still the sweetest and easiest he's happy with a character but my 4th and 6th graders aren't so easy to please.  I get it.  In 4th grade, you really don't want to give a card out with a saying "be mine" or " I love you" on it to the girls and hello middle school where you might have a crush but only your bestie knows about it and god forbid you pass a card to him saying " won't you be mine" am I right?
So this year I had my work cut out for me to find the perfect non-mortifying cards for 4th and 6th grade and make my kinder babes ninja dreams come true all while getting them in time for my own personal deadline.  Thankfully I found Valentines that fit everyone's bill this year at Oriental Trading Co.,  hallelujah!!!
Fletch is all about ninjas, army men and "guys" as he calls action figures.  So, these adorable ninja cards with lollipops were perfect for his class this year and only $6.19 per dozen
My fourth grader is all boy when it comes to love--at least currently. He thinks girls have cooties, farts are funny and poop even better #gross, right?! When I showed him these 'Love stinks' Cards he flipped out and said those were the perfect Valentine card for his class.  The mini poop emojis are just $6.69 per dozen and the 'Love Stinks' card is a free download found here for FREE this is some poop I can stomach.
Supplies needed: Glue dots, Scotch scissors, printer, cardstock paper
Middle school can be one of the toughest stages of childhood in my opinion. With so many changes to both your body and the social pressures starting to occur, it's just a rough age. It's also the sweet spot where the last bit of little kid is lingering and things like Valentine's at school can be a big deal especially if you get a card from that special crush.  Lily really wanted something not too sweet and something that "mom won't make boys think I like them" so when I found these 'I pick you' valentines, I really thought they fit the bill perfectly.  At just $9.99 per dozen they were on the pricey side but for middle school, I think it's money well-spent for a few giggles.
I can now mark off Valentine's preparations for the kids at least off my ever growing mama to-do list. I feel like finding cards and treats that make everyone feel confident in their giving was the goal this year and I nailed it thanks to Oriental Trading.  
They currently have a 60% off Valentine's Day sale going on now and shipping was super fast!
For more Valentine's ideas check our Pinterest board here.
Now if I can only find something for the hubs--and a sitter--I'll really be winning Valentine's Day this year.