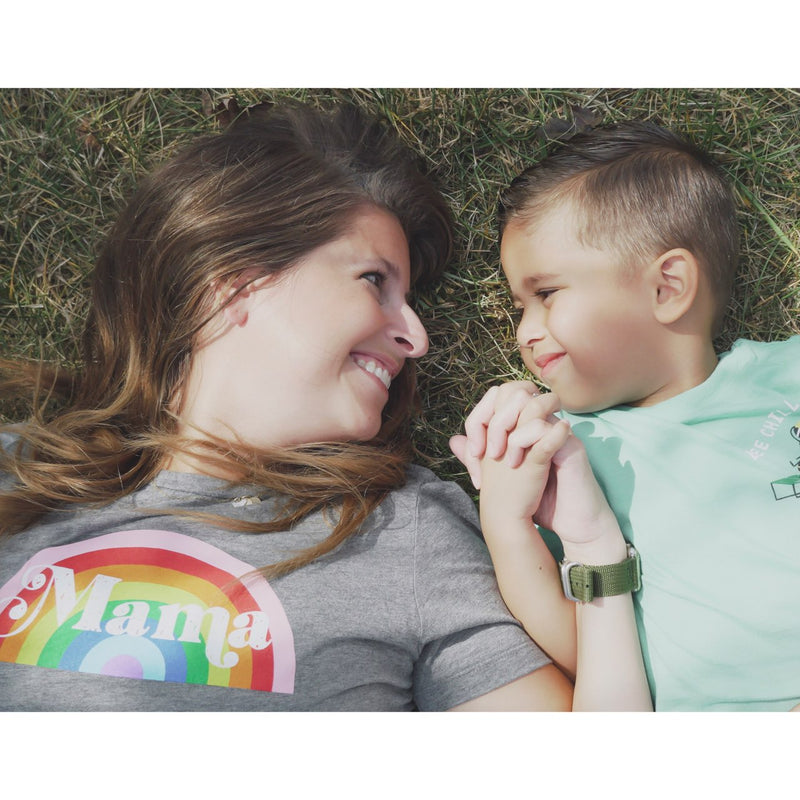 I will never forget the moment that I woke up from my D&C. As I opened my eyes, I squinted and gazed at the harsh fluorescent lights passing over my head. I wanted so badly to stay awake and grasp onto any final moments of pregnancy that I could, but I was so tired. I was being lured in and out of sleep by the warm blankets covering my body. My mind was confused by emotions and medication. How was it possible that I was asleep long enough for my life to change so drastically? I didn't feel any different. I had no scars to prove the trauma I had just endured. I turned to the nurse that was transporting me to the recovery room. "Is it over?" I asked. She looked at me sincerely, and calmly said "yes, everything went okay". Immediately I burst into tears. The baby that I worked so hard for, that I had waited years for, was gone. In an instant, I became the mother of an angel.

That angel was the result of our first round of IVF. My husband and I are unable to conceive naturally, so after years of testing and procedures, we were able to undergo egg retrieval and created eight embryos. I got pregnant from our first transfer, saw a heartbeat at six weeks and was discharged from our fertility clinic to my OBGYN. At our eight week appointment, that heartbeat no longer existed.

During that appointment my world crumbled around me. Everything that I thought I had conquered through our fertility journey rested lifeless inside of me, and I lost hope. Unfortunately, my OB for that appointment had not met my husband and I before (we went to a large practice) and did very little to manage the emotional aspect of what we were experiencing. Without acknowledgement of the emotional blow that we had just experienced, she handed us the paperwork to schedule our D&C and moved on to her next appointment. We left the office and faced the torture of calling our families, only to bring them pain, by sharing our news. I felt guilty, empty, isolated and hurt.


I vowed to myself, in that moment, to change the way emotions and mental health are handled in the midst of the family building process.

My husband and I took our time healing from that miscarriage. Over the next four years, our eight embryos went on to become two perfect and amazing children. Every night, we kiss their freshly-bathed heads as they fall asleep and thank God for the opportunity to be their parents. We know that it does not always come easy, and the anxiety and angst in pregnancies after miscarriage are enough to uproot any woman's emotional stability.


During those four years, I worked diligently establishing a career as a mental health therapist, and I am now running a mental health program at an OBGYN's office. I took my promise to myself in that exam room seriously, and at the birth of my daughter I struck up a conversation with our midwife that led to a change in the way their practice operates. Because of that conversation, I now work with women who have experienced infertility, pregnancy loss, infant loss, and perinatal mood disorders. I sit, I listen, I cry, I hug. But more importantly, I work with them therapeutically to ignite hope. In the darkness of miscarriage, hope is often temporarily lost. The emotions of grief run too deep to fathom any positive outcome after that moment. And that's okay, for that moment. I often encourage women to fully feel their emotions in that phase, and to indulge in their tears. Tears heal.

But beyond the tears there is hope, and that hope looks differently for each individual. Some women have a plan to lean on for subsequent pregnancies. Some look to foster or adoption and some fully embrace a life without children. The child lost is not forgotten, but you can find a place of calm beyond that loss.

As I work with these families, I encourage them to find closure. Early miscarriage comes with significant grief and loss, but it often exists without a ceremony or burial. This leaves many families feeling as though they were unable to close that chapter in their lives. For my husband and I, we wrote our baby letters, sealed them in an envelope, and placed them in a box along with our pregnancy tests, pregnancy journal and ultrasound photos. We held each other close, and closed the lid. I placed the box on a shelf in our nursery, and have gone back to it a few times over the years to reconnect with our first baby. I found closure through this act, and find comfort now, knowing those memories aren't far from reach.

If you have experienced pregnancy loss, please know that you are not alone. You do not have to endure the sadness alone. Reach out to a loved one, a friend, or a mental health professional. You are not alone, and you will find hope again.
Michelle Reyes
Perinatal Therapist
Creator of Hope in Waiting
HopeInWaiting.com