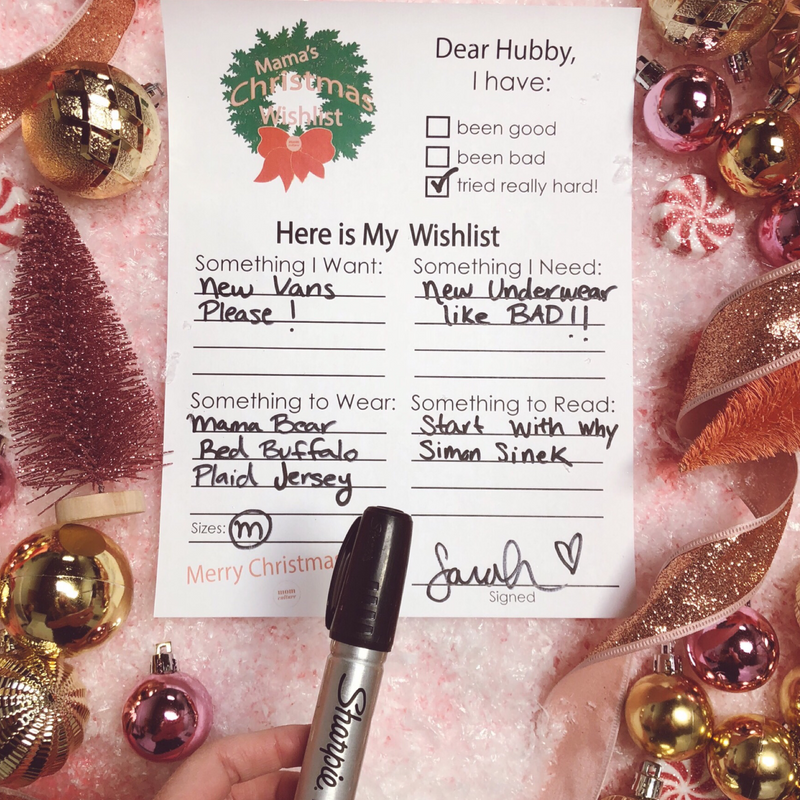 Holidays are all about traditions, and one of my personal favorites has always been the "something you want, something you need, and something you'll read". I've done this with my kids since about preschool age they love it!
Back in 2016, I got the wild idea to bring this concept to our shop for Mamas in a fun, interactive giveaway, and well let's face it, we're awful about gifts for ourselves. And, most husbands struggle with what to buy us, so it's a win-win to use this fun downloadable printout as a guide to help them out.
My wants/needs this holiday season
I'm a simple girl with simple needs. I legit ask for staples and sometimes the occasional splurge I wouldn't buy for myself from my hubby and kids.  
Something I Need:
This year, I'm in desperate need of new underwear because I realized last weekend while cleaning out my drawers, I still have some maternity pairs in a heavy rotation which wouldn't be an issue but full disclosure I haven't been pregnant for five years, so HELLO I need some new undergarments ASAP!!!  This year I'm asking for KNIX bras and panties. Pretty please Santa baby!
Something to Read:
I'm finally getting around to reading again...can I get an AMEN for this small luxury being back in my life?  I've been on a mompreneur reading kick and want to get my hands on "Start with Why" by Simon Sinek. I've heard this book recommended by some of my favorite fellow mama hustlers like Rachel Hollis and The Alison show, so it's on the top of my want list.
Something I Want:
I want a new pair of VANS. I've been eyeing the Mega Check Ultrarange Gore and really want them, hardcore. I hope to find them wrapped on the tree this year kids...hint, hint, wink, wink! I mean, we all love a trip to the Vans store. 
Something to Wear:
I love adding a new winter sweater or graphic tee to my collection and this year my friend at Loved By Hannah and Eli nailed it with her buffalo plaid "mama bear" spirit jersey.  
That wraps up what I hope makes it under my tree this season. Mama, now it's your turn to share.
Print out this fun download, fill it out with your holiday wishes and post it on your Instagram or Facebook using hashtag #momculturewishlist for a chance to win one of 5 Mom Culture $20 gift certificates to use this holiday season.
Contest starts today and ends on 12/5/18, winners will be announced by Mom Culture on our Instagram feed.
**Giveaway is now closed**
XO,
Sarah