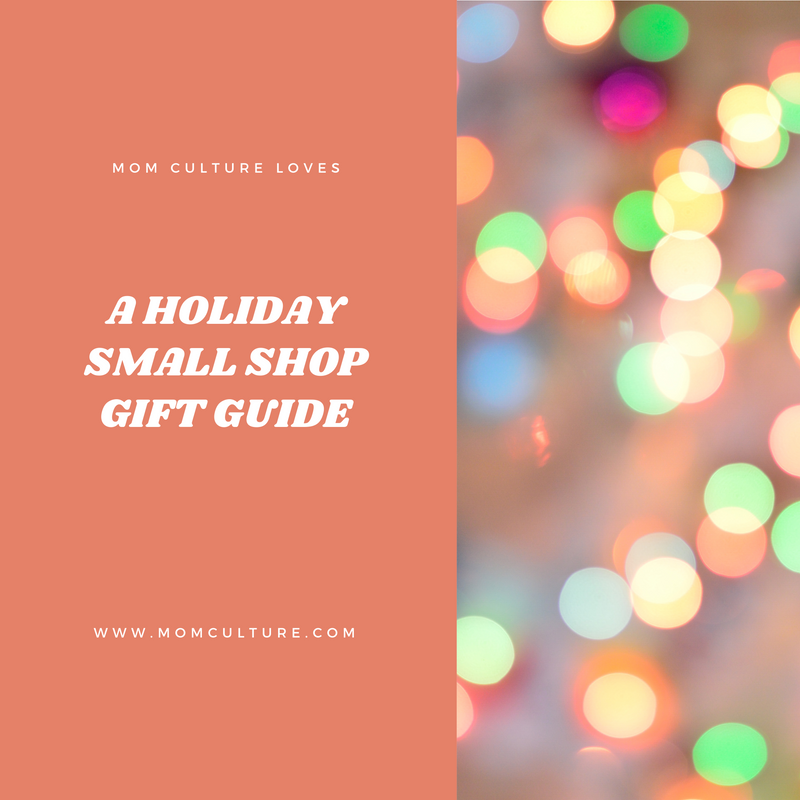 Ok, mamas, I say every year that I'm going to put together a gift guide and every, single year I get too caught up in the hustle to ever get it put together but not this year....I finally did it!  
Truth be told, I'm not a huge consumer, so when I do purchase, I really love to buy from fellow makers and shakers, small shop hustlers like myself.  Being in the small shop community has taught me so much about the drive, determination and efforts makers put into their brands. It can be so hard to compete with the big box brands, especially during the Holidays, so I love shopping for quality items from these hardworking Mamas & Papas.  
 Bannor Toys:
This shop is hands down, my go-to for all baby gifts. This company is run by my beautiful friend, Stacey Bannor and her hubby.  They established their amazing handmade toy company back in 2011 from their basement and have now grown into their very own building. These heirloom-quality handmade wood toys are customizable and encourage learning in the simplest form without gadgets and batteries!  
USE CODE: MOMCULTURE10 for 10% off www.bannortoys.com
(code not vaild in conjunction with other codes, expires 12/31/19)
 Raine & Skye:
This is another one of my go-to makers and shakers.  Raine & Skye bags are made of real genuine leather, hand-cut, hand-sewn and made with love from Rosemary's table to your littles' hands. My daughter has been wearing her bags for 6 years now and the ones she's outgrown are safely tucked away for her future daughter one day.  These are true heirloom-quality you cannot duplicate. They make the perfect treasure and accessory for your little explorers and fashionistas! 
USE CODE: MOMCULTURE for 20% off www.raineandskye.com
(offer ends 12/6/19 some exclusions may apply, not valid on sale items or new arrivals)
 Tiny Whales:
This amazing mom & pop shop has been my go-to for the past six years to keep my kids in the most stylish and free-spirited wear around. This brand is designed by Shaun and Brittany Wagoner--parents to two beautiful little girls and makers of always RAD never BORING kids apparel. They design every piece together from the textiles to the hand drawings, from start to finish. These rad parents pour their heart and soul into each and every piece they produce. Did I mention that they do it in all the USA?? So rad!
USE CODE: Actually this epic shop is having a BLOW OUT Season sale...score 50% off no code needed, valid 11/26/19-12/2/19.
 Shop Wrenn:
I call the mama behind this brand one of my OG small shop friends, Alissa and I have been hustling along with each other since I started almost six years ago.  She is my go-to jewelry maker for not only custom pieces but original designs that make the perfect unique gift for the special ladies in your life from sisters, mothers, and grandmothers she's got you covered by her amazing craft and metalworking.   
USE CODE: MAMA10 for 10% off your purchase www.shopwrenn.com
(no exclusions, code valid through 12/31/19)
Kaans Designs:
You can't forget about the Pops this holiday season and our friends at Kaans Designs have that locked down. Home of "The Original" family set is sure to be a hit for pregnancy announcements and the best family photoshoots. Grab your favorite Daddy-O some #dadswag this season designed with love by this epic Mom & Pop duo!
USE CODE: MCULTURE for 20% off your purchase  www.kaansdesigns.com
We hope you enjoy this little holiday guide and consider shopping small this holiday season because it truly has a BIG IMPACT.  Each of these vendors has touched my heart and life with their unique products and the heart they all put into their work and brands.