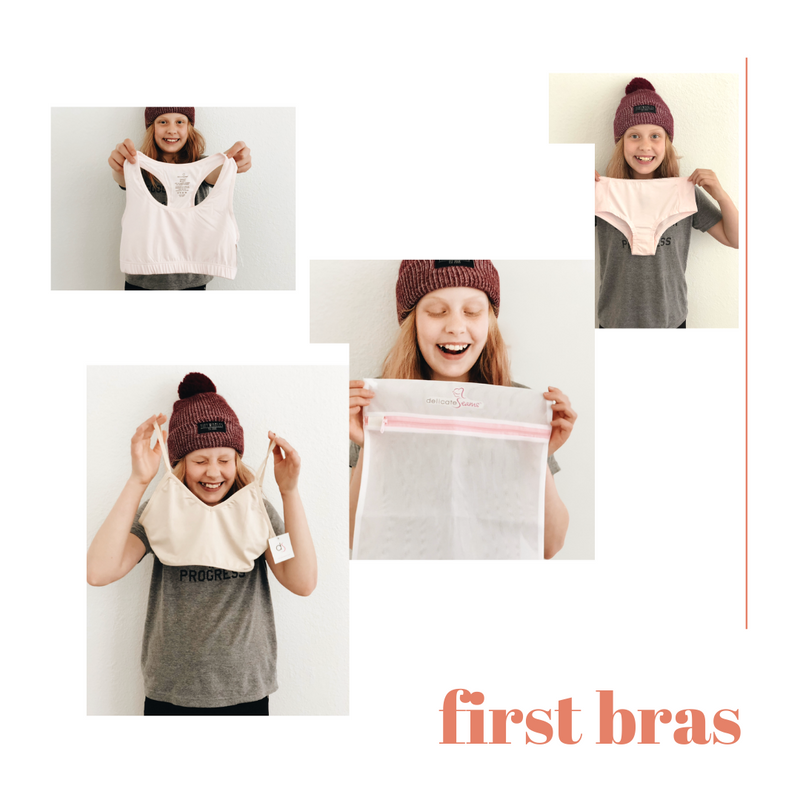 I still can't believe my baby turned 11 today, that means I've officially been doing this mom gig for a decade and some change now ladies, it's so hard to believe it but time flies.  My baby girl is hitting that age where things are changing and talks are happening it's a transition for us both needless to say. There are new waters to navigate, territory to be discovered and new seasons of change as she starts the transition from my little girl to beautiful young woman.
One new development (not literal development…just yet) is her desire to wear a bra, yes you read that right a bra.  At first, I was put off by the request I mean she's my baby and here she's asking for a bra!!! I mean wasn't she just two like five minutes ago and wearing my bra on her head playing dress-up…somebody please hold me.  Although she's not (in my opinion in need of on just yet) I listened as any good mother would about her reasons why which basically boiled down to "HELLO mom everyone is wearing one at school"  so I decided for her comfort and self-confidence its time to bit the bullet. So, off we drove into the girls "tween" undergarment world and boy was I underwhelmed, not only did we find limited options but so many were not what this time and season called for…like hello does she need padding umm NO!
One night I was on Instagram mindlessly searching my feed when this new page popped up (thank you algorithm) called Delicate Seams.  This company was exactly what I was looking for to introduce Lily into the world of undergarments. This mom gets it and saw the gap in the market for "this season" and transitional time. Even better it's owned and operated by fellow Mompreneur and founder Aida Yodites which is my favorite kind of company to support. #smallbusinesslove
Delicate Seams introduces a line of undergarments, which includes 7 beautifully crafted styles. Each piece incorporates soft fabrics, sweet trims, and thoughtful colors into designs that are functional and most importantly, appropriate for a growing girl's body. At Delicate Seams, they promote modesty and believe that there's a right way to "bridge the gap" between a young girl and young lady.

We love everything about our items from Delicate Seams from the fabric to the fit these new pieces are a welcome addition to Lily's wardrobe…and this garment washing bag is such a great teaching tool for showing her how to properly wash her lady delicates!
Aida is so sweet she's offering our followers a special code to use on her site https://delicateseams.com for 15% off their first order.  USE CODE: BLOG15 at check out on their site.