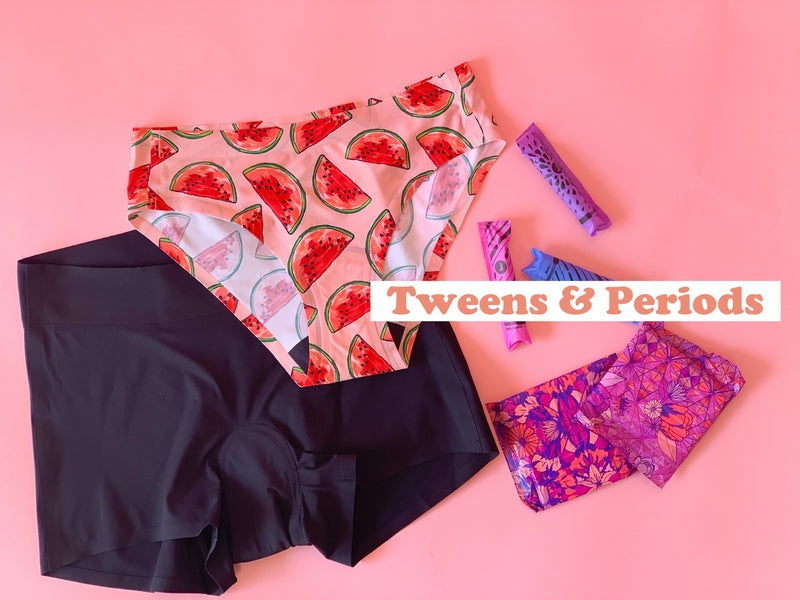 Are you ready?  Moms of tween girls, get ready...it's coming.  Your daughter's first period is on its way and you need to be prepared.  
Books
I love The Care and Keeping of You books 1 and 2 from American Girl.  The first book is a great introduction for younger girls ages 8-10 with basic information about their body and the changes coming.  Book 2 goes into more detail and is more suited to older girls. I also love Hello Flo, by Naama Bloom.  It's an easy, down-to-earth read that I think girls can relate to. 
Products
My 12 year old daughter is a couple months into her period and she has tried a variety of standard pads and period panties.  Her favorite so far are Thinx brand panties.   If you're in this stage with your daughter, or just want to try them for yourself we highly recommend Thinx.  Sometimes, she wears a pad with them to school so she can remove the pad halfway through her day and have the panties for the rest of the day.  She feels more confident against leaks this way.
We also love LOLA for pads and tampons.  They offer a great First Period Kit.  It's filled with a variety of pads and tampons to get your girl started. Their products are made with 100% organic cotton, and contain no toxins, dyes or synthetic fibers. You can set up a subscription and customize it so you have what you need every month.   
Tax
Although some states don't charge tax on period products, a lot of them still do.  LOLA is working to eliminate the tax on menstrual products in all 50 states.  Since this tax only applies to those of us who menstruate it's not really fair and is a form of discrimination. Amazingly, several states already have removed the tax and more are joining. This year, the state of California joined and is not charging tax on period products for the next 2 years. (And they included diapers!) This is great news, because, we have heard so many stories of women and girls who cannot afford period products. They are an essential part of a woman's life and more needs to be done to make them more affordable and available to all women and girls. Although period panties can be costly initially, they can save money over time because they can be washed and reused.  
Talk About It
Let's remove the stigma of talking about periods.  It's normal, it's natural. It's not a secret or something that our girls should be embarrassed about.  
XO,
Gina