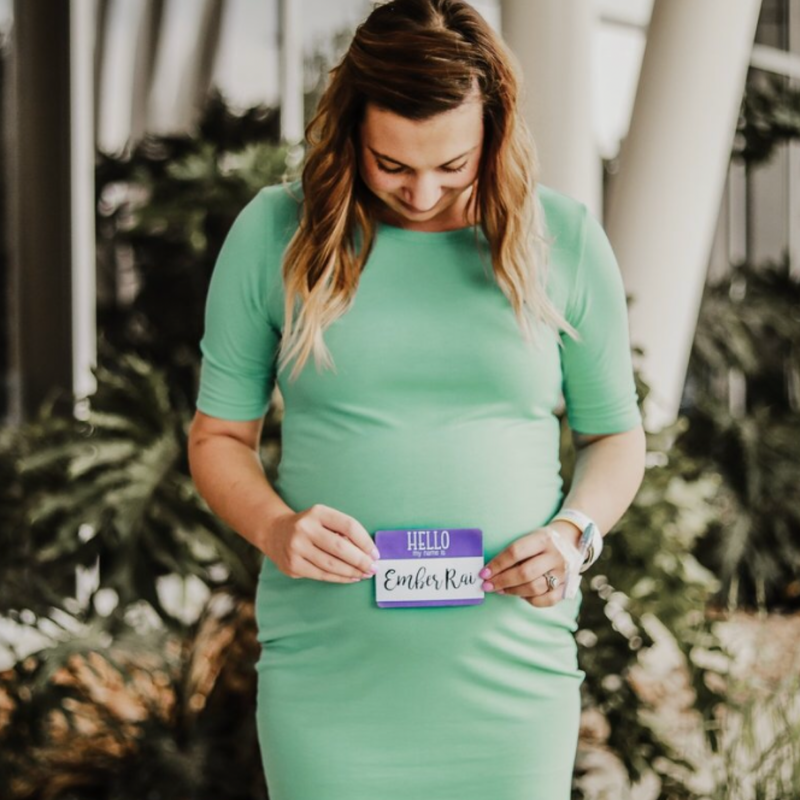 I've literally started this blog post about 10 times already and haven't been able to remotely finish it, or even put into words how I'm feeling. I knew that today would be rough, and I would be semi emotional because of what happened a year ago today to Ember and I, but I didn't know I would be this way.
Before I start writing more I do want to put a trigger warning on this post. If you're currently going through a complicated pregnancy, have gone through a complicated pregnancy, had a baby with complications because of what happened during your pregnancy, or lost a child because of what happened during your pregnancy-this post may be a tad tough to read. I would still encourage you to read through this though and realize you're not alone in the way you're feeling. I think what happened a year ago contributed A LOT to my PPD and PPA. It was a very traumatic time for myself and my family, but I'm posting this in hopes of helping others who are going through or have gone through something similar.
September 7th, 2017 at 10:30pm I started uncontrollably bleeding-not like a little bit of blood but actual gushing blood-at 33 weeks pregnant with precious Ember. We had an amazing friend who lives a few houses down from us rush over to stay with Hadlee while my husband literally sped to the closest hospital. I thought for sure my placenta had erupted and we lost Ember. I was crying and praying and pleading to God to just keep our baby girl healthy and alive. We had already lost one child early on due to a miscarriage, I couldn't lose this baby girl that I carried for the past 33 weeks and had gone through so much already just to make sure the both of us were ok and alive. My husband later told me that he thought he was going to lose the both of us because of the amount of blood that was pouring out of me. I cried when he told me that.
At the first hospital we were at, they were so nice to us. They had no idea what was happening. We requested right away to be transferred to the hospital where my doctor was at and where I was set to deliver Ember at originally. They wanted my bleeding to come down a lot and me be stable enough to transfer so they waited to transfer me until the next afternoon. I had an ultrasound at that first hospital to check on Em-she was perfect, heart beat was fine, not in distress like she should've been with all the bleeding, and most importantly she was just moving away inside my belly.
When they transferred me, they sent the NICU nurses to transfer me to Antepartum. We knew Ember was ok at the time-we we're monitoring her around the clock, but we all thought for sure she was going to come early and be a NICU baby. Ember has always had her own agenda from the very beginning and does things when she's ready, so this was no different. The NICU nurses told me that she would be in good hands there and not to worry as it was a level four NICU after all.
I was admitted to the Antepartum unit that afternoon and spent a month there before getting induced and delivering baby Ember at 37 weeks exactly. I went through multiple ultrasounds to check on her growth, to try to find the bleeding, and to check on me to make sure I was going to be ok. I met with a maternal fetal medicine doctor for the third time in my pregnancy with Ember. I literally met every single doctor minus like two that do rounds and work at my OB's office. Everyone was incredible to me. The nurses were amazing and took such great care of me. They always were making sure Ember was ok, making sure I was eating and was ok, and that I was as comfortable as I could be while staying in the hospital for such a long time.
Ember was estimated at 33 weeks to be 3lbs 8 oz-so a tiny thing. I'm not a big person anyways and my oldest daughter Hadlee was born at 39+1 and only weighed 6lbs 4 oz, so we figured Em would be a tiny thing like her big sister. Ember is a fighter just like I am. She is the strongest baby I've ever met. Literally was pulling up on things and trying to walk at 3 months old. She would try to throw herself out of her rock n play, her newborn boppy lounger, her swing, and anyone holding her. I call her my tiny ninja warrior because legit she is! That baby held on. She wasn't going anywhere and we weren't going to lose her-she made that very clear and God made it clear to us as well. This was a journey we had to go on for a reason we didn't know at the time, but I'm figuring out we have gone through these things to help other people and to spread the message about God and miracles really happening because of Him.
The doctors never could figure out where the bleeding came from. Literally it's a mystery and it still bugs me knowing we don't know why this happened a year later. Maybe a hidden placental abruption? Maybe something else? No one really knows. I want a reason but I'll never have one. I was told I could have more children if I wanted to and this was probably a fluke thing-I sure hope so! I don't think I could go through something like that again, even though I know deep down I would to make sure me and my unborn child are ok.
I feel like being in the hospital for that long and being away from my oldest child and worrying about my unborn child, really brought on a lot of feelings I didn't know existed in me. I think the cause of some of my PPD and PPA is because of that hospital stay and what happened during it.
Thinking about that stay makes me realize that I was a strong person but going through it at the time I felt so helpless and so weak. I had to ask for help, and I hate asking for help. Heck I hate asking for help now with my PPD and PPA. I just want everyone to know that you're not alone in going through this. I understand your struggles. I understand your hurt. And I understand the mom guilt. I still feel that guilt a year later and I'll feel that way about having to leave Hadlee with my mom while I stayed in the hospital for the rest of my life.
I have a ton of people I need to thank, so I'm going to take a minute to do it right here. My Mom flew from Nebraska to help take care of Hadlee for that whole month while Jeremiah, my husband, was able to stay with me for the majority of the time while I was in the hospital. It was so hard knowing I couldn't go home and rock my oldest daughter to sleep, or play with her, or just do any of our normal things we had done during the day. I felt like the time I had with Hadlee before Ember was supposed to be born was taken away from me, and I'll feel guilty about that. I'm so grateful for my Mom for helping us out and helping to take care of Had's. I'm so thankful for my mother in law as well who got in the car and drove 7 hours from where she lives to where we lived to make sure Hadlee was ok and I was ok as well. And I'm really thankful to my sister in law, brother in law, and my niece who is four months younger then Hadlee for jumping in their car at 2 am and driving 2 hours from where they lived to where we lived to be there when Hadlee woke up so she had familiar faces to wake up to and wouldn't be scared. To all my family and friends who sent us prayers in the hospital, who checked in on us, who sent us care packages-thank you. You guys have no idea how much the prayers and the kindness helped us on our journey while we were there.
I'll share Ember's birth story next month on her birthday, October 5th! I just want everyone to know that Ember was not a NICU baby, she was amazingly strong for such a petite little thing and had no issues at all. She's growing and thriving now, and is 11 months old and a spit fire, stubborn little soul who I love to the moon and back.
Thank you all for reading this emotional post. I hope I can help someone out there that has been through this or is going through this now. All my love and support.
To read more by Codi, click here to see her blogs!