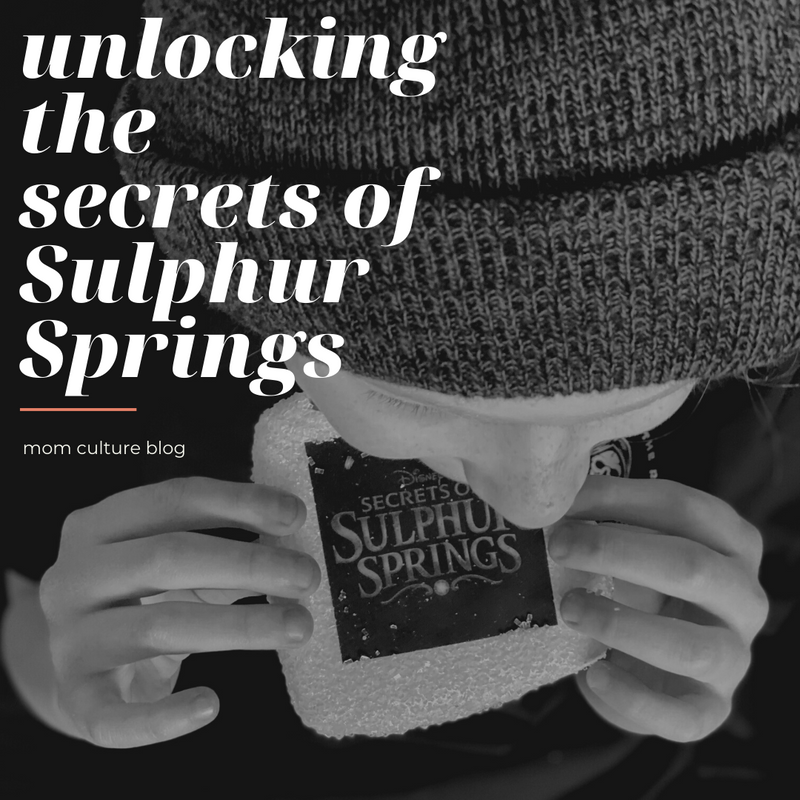 If your family loves a good mystery and suspense, then grab your favorite 90's gear and your crew to watch the new first-ever Disney mystery series Secrets of Sulphur Springs debuting this Friday!
We had the exciting honor of getting a private sneak peek preview showing last week, and we cannot wait for more because it had us hooked and on the edge of our seats the entire time. 
Sweet treats for our little viewing party
on the edge when they make the time portal discovery
Secrets of Sulphur Springs is a time-travel kid-friendly show the entire family will enjoy. The show takes place in a small Louisiana town with a haunting past. The show follows 12-year-old Griffin Campbell, whose Father Ben has moved the family from Chicago to take ownership of an abandoned hotel property, The Tremont.

The Campbell family, which also includes Griffin's mother, Sarah, and his younger twin siblings, Wyatt and Zoey, moves into The Tremont in hopes of restoring it to the lively vacation destination it once was. On his first day at his new school, Griffin hears rumors that the hotel is haunted by the ghost of Savannah, a girl who disappeared decades ago. He soon meets and befriends Harper, a thrill-seeking classmate, and soon they discover a secret portal that allows them to travel back in time and uncover clues about the town mystery.

Sounds exciting, right? From the suspense to the fashion, I'm excited to have a fun family series that we can all safely enjoy with a little thrilling fun without the THRILL to scare little brother. Having kids ranging from 7 to 13 makes it hard to find something for everyone, but Secrets of Sulphur Springs hits the mark perfectly for this mama!
Kid reviews are in...
I was invited to watch an early showing of Secrets of Sulfur Springs, and I, as someone who usually doesn't have the drive to finish a TV series, can say that this is worth watching.  I was on the edge of my seat the whole episode, and I can't wait for the next one to come out.  The mystery itself is so intriguing, and I was left wondering how the story will unfold. -Riley age 13
"I loved it! I was a little nervous at times but didn't want to stop watching. I can't wait for the next episode.  It was so good."  Eli age 8
"This show was so much fun. I love that the main characters are kids. The twins were so funny. It's my new favorite show." Reagan age 11
Secrets of Sulphur Springs airs ON DISNEY CHANNEL FRIDAY, JAN. 15, 2021 make sure to tune in with your little mystery seekers!
Let us know if you tune in on Friday so we can chat about how your family enjoyed the fun too!
xx Sarah