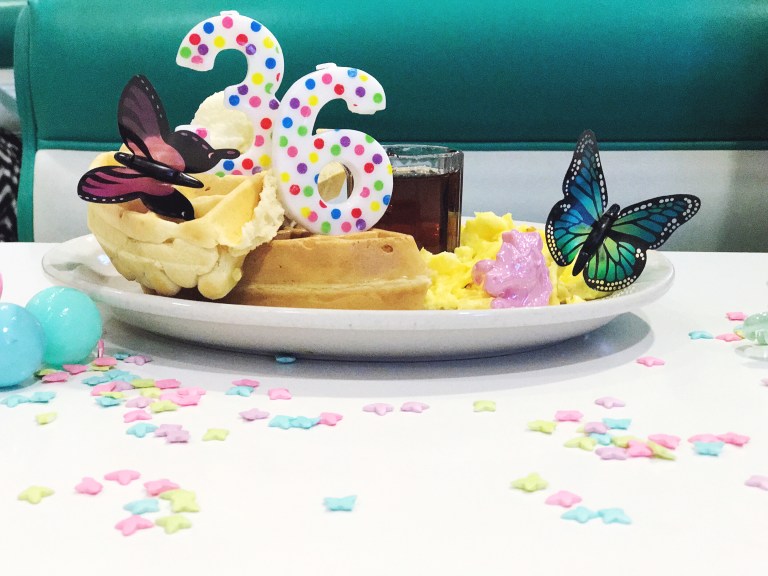 a Birthday tradition
Birthdays are special. They celebrate the day you came into this big world. Each one is a celebrated milestone simply because, well, you're still alive; and that's worth celebrating, am I right people?!
I can't remember crazy birthday celebrations or Pinterest worthy parties from my childhood. I'm pretty sure the wildest party I had was at a Chuck E. Cheese's, but one thing I remember is waffles for dinner.  My siblings and I were raised with the help of our Great Aunt and Uncle. They were our surrogate grandparents and the backbone to our family.  They were incredibly kind and hardworking folks from the Midwest who came to California in the 50's for opportunities the golden state had to offer.  Although they only had one biological child (due to complications from childbirth and a full hysterectomy at age 20), my Great Aunt once told me God provided her with more children then she could have possibly ever birthed. To me, this was a pretty awesome perspective to have. They instilled in me so many of the core values and traditions I still hold true to. I will forever be thankful for the time I had with them both. It was priceless; and it helped to mold me into the person (and parent) I am now.
As I got older, my Great Aunt would ask me what I wanted for my birthday. I didn't want her to spend money or have to go out shopping, so I would ask her to make me waffles for dinner.  I absolutely loved her waffles, and breakfast for dinner is by far, my favorite quirky family tradition. It's the best. Seriously, kids think it's down right magical to have breakfast for dinner. It messes with their little heads in the best way possible.
Her meals were always served on time and always consistent. If you stopped by their house at 5PM, you were guarenteed a plate. It was an assembly line of family and friends every night at my Great Aunt's. The house was always full because all were welcome. Dinner traditions included men and children getting served first. This is one I still follow today (when I actually cook). Side note: I don't cook all that often (I'm a terrible cook people).  On special waffle dinner/birthday night, I got served first, and I even got dibs on the second waffle out of her maker. She always wanted it to be hot and fresh, just for me. I remember sitting at their table, watching her make my waffles in what was probably the oldest waffle maker from Sears known to man.  I can still picture her manning the maker and warming the Mrs. Butterworth syrup. She always paired it with a freshly poured glass of cold milk for me. Gosh I miss her so (and Pop, you know I miss you. And your jokes about the fact I could eat like 4 large waffles).
Simple traditions are the things I believe we hold onto. They are the things that stick with us in the end. It's not the elaborate parties or loads of presents we remember (a good party is a great memory maker). For me, it's the time people take with us that makes us feel special and feel loved. My Great Aunt's birthday supper for me every year is one of my most cherished memories.
Today I carry on the tradition by enjoying a helping of waffles at our local diner to celebrate. Cheers to many more birthdays in the future. A special thank you to Tiss & Baba for all the love you showed me growing up. And for making my birthdays so special with a simple waffle and love!
XO,
Sarah