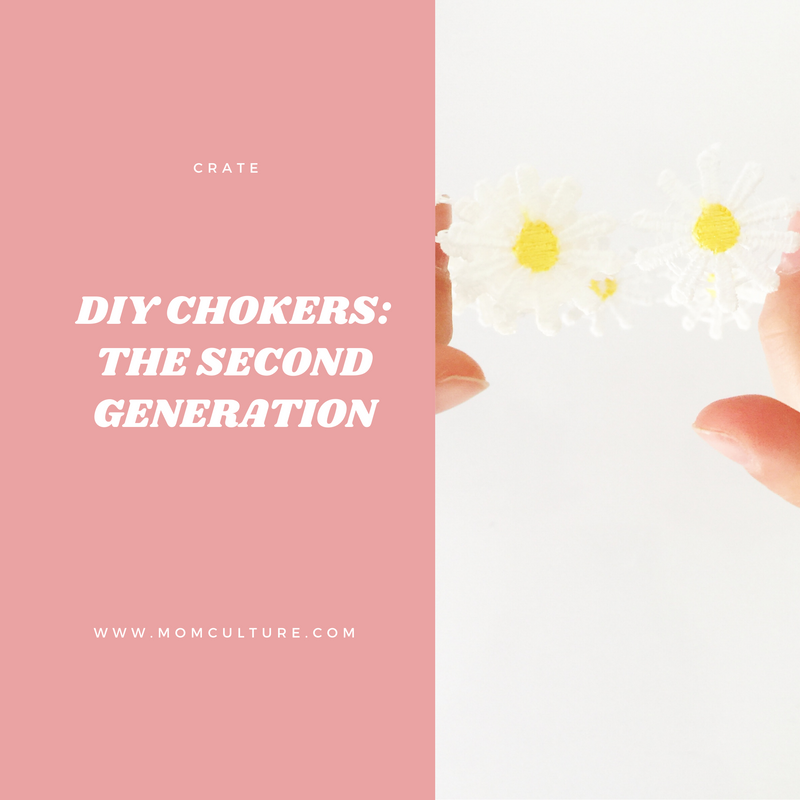 Mommy & Daughter Craft time
Chances are you were a kid of the 90's and chokers were a must have in your daily stylish life. From the mood changers to the yin and yang symbol, you likely had one for every day of the week (am I right?).  I had a pretty epic collection that would have even given Drew Barrymore a run for her money back in the day….  Sadly, I don't have a single one left, but I sure wish I did. Don't worry if you no longer have that junior high choker collection from Wet Seal or the local dollar store (used to score the best ones there, I swear). We've got you and your crafty lil' ladies covered with this quick, easy and inexpensive DIY!
Supplies needed:
Velvet ribbon (colors of choice)
Lace ribbon or decorative ribbon
Stick on velcro
Measuring tape
Scissors
Charms (Optional)
Step 1
Measure your little ladies neck for the perfect fit.  We did 12″ for my 9-year-old and it fit great (comfy enough to wear all day).
Step 2
Cut to size (make sure you leave enough room to overlap the velcro)!
Step 3
Apply stick-on velcro to the ends of your cut piece of ribbon.
Apply the second piece on the opposite side to make a closure.
Step 4
You're DONE!
Repeat with as many ribbons, colors, and styles your heart desires. Add charms to jazz them up; or make them extra special and use as a gift to friends.
Last but not least, show off your new fashions with a couple of quick pics!
From my little lady @rainbowdesignsbylily to yours, we hope you enjoy this 90's inspired fun craft and quality girl time!
XO, Sarah