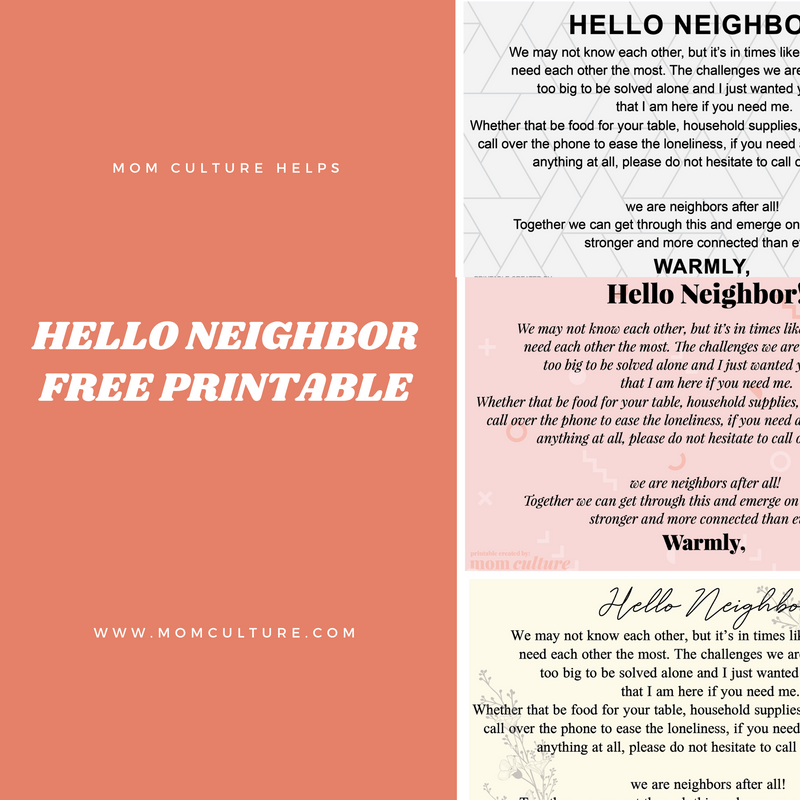 I am keeping this blog short and sweet mamas. Our entire lives have been basically entirely turned upside down in a matter of days with the turn of events surrounding the COVID-19 virus. We've become confined to our homes, become homeschoolers, and have had to hunt for basic staples for our homes like toilet paper.

One thing we need with this social distancing is community. While we cannot physically gather, we can connect and continue to build each other up in these uncertain times by getting back to some basics.

How well do you know your neighbors? How many are new moms? How many are retired and at higher risk? How many might not have everything they need to get through right now?

I've been racking my brain on ways we can continue to help each other and stay connected in our communities with my friends over at Mae Innovations and Krystal Festerly.

We're working on offering you mamas some free printables like schedules and our new 'HELLO Neighbor' cards.

Print these FREE cards out, add your phone number or email and leave them on your neighbor's door. Let them know they aren't alone, and we're truly "in this together." If they need something, you might have extras to share. Let's practice community and lend a hand to our neighbors.

We can still practice social distancing by leaving it on their porch, helping an elder, or maybe just a friendly phone call is all someone needs during this time!
Mae Innovations has donated her time and efforts to make three beautiful options from Monochromatic, Mom Culture colors, and Earth Tones we've got you covered!
Please continue to take care of each other, and let's all remember what matters most in times like these, our health, our families, and our community!
XO,
Sarah 
*Click each photo to open a new window, print to scale, fill-out with your phone number (or email), sign then take your kiddos out and about the neighborhood for some fresh air and to spread some community LOVE! Make sure this is done from a distance please leave on doors or cars NO CONTACT unless it's at least 6 feet away!* Wash your hands and sanitize after this adventure.*