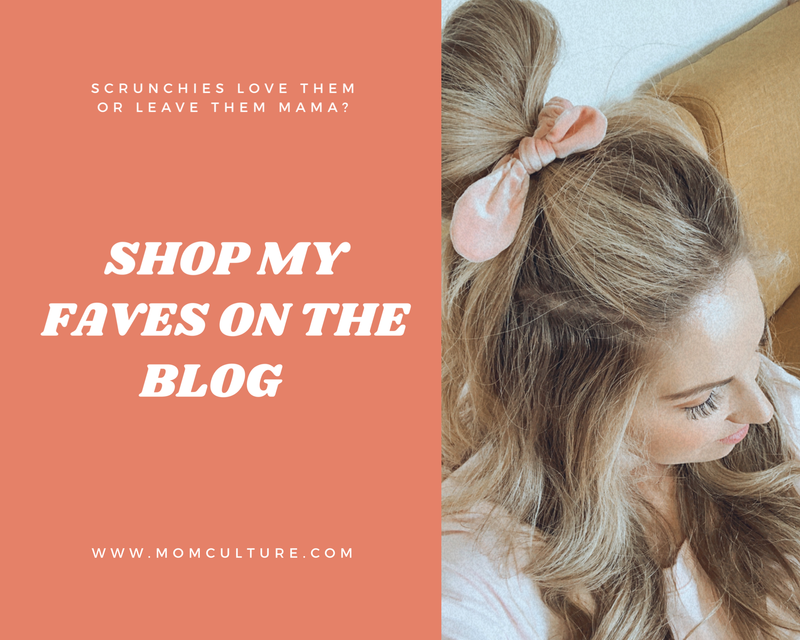 Ok, have you jumped on the scrunchy bandwagon yet, mama?

I have to admit I did an eye roll when my daughter started asking for them, but now I find myself heading into her accessory drawer and borrowing them way too often. I was honestly a little hesitant to try this "trend," perhaps feeling like hello I've done it before, and my time has passed, but this easy peasy accessory is quick becoming my unwashed mom hair fave.

Here are a few of my faves for spring and summer season:
Love the little bow detail on these and at $7.99 you can't be the price 

Take a walk on the wild side with this leopard print scrunchie at just $1.99 this is perfect to spice up your basic blank yoga pants and tees!
I love this look so much and I feel it totally steps up your denim jacket game with a delicate touch to any ponytail. $4.99 
Speaking of the 90's this daisy print has me wanting to live my best Drew Barrymore days forever!!!  $3.99
 I achieve this relaxed messy fun look with three-day-old unwashed hair, dry shampoo, and curls from day two no joke.
I dry my hair using the Revlon One-Step Dryer and my favorite curling iron Hot Tools Nano 1 1/4' ceramic both available at Ulta Beauty. 
My current go-to dry shampoo is by Living Proof also available at Ulta. I've also recently made the switch to Monat after being introduced to it at work.  I seem to be able to go an extra day with their shampoo and conditioner wish helps me shave off some extra mama time...win win!