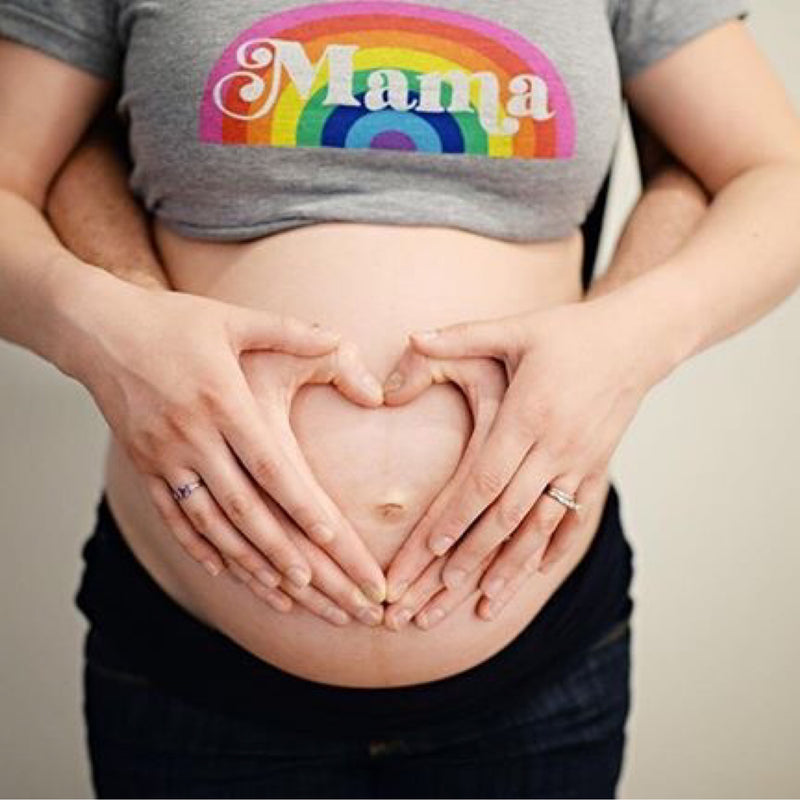 We are over the moon to announce our latest collaboration! Mom Culture is excited to expand our tee line to include even more mamas than before. RAINBOW MAMAS. We've teamed up with the @ihadamiscarriage campaign to support women who have experienced loss. 
A "rainbow baby" is a baby that is born following a miscarriage, stillbirth, neonatal or infant loss. "Rainbow mamas" are their courageous mothers. Do you have a rainbow baby/are you a rainbow mama? Whether you are a rainbow mama OR love one, these tees are for you!
Rainbows don't always follow storms, and when they do, they do not wipe away what came before. Pregnancy after loss can be arduous and might affect who we are as women and mothers. We honor these journeys. We honor YOU, your vulnerability, and your strength. 
If approximately 20% of pregnancies result in loss and a majority of women go on to get pregnant again, rainbow mamas abound. These tees honor the various routes to motherhood, putting a face to the statistics, and encouraging intergenerational conversations surrounding pregnancy loss.
The #IHadAMiscarriage campaign encourages intergenerational conversations about pregnancy loss, with the hope of fostering connection and community, building global support, and shedding taboo. The campaign aims to de-shame, de-silence, de-stigmatize loss. Owning our stories and acknowledging our journeys to motherhood inspires others to do the same. Founder Jessica Zucker, psychologist and writer, wants to change culture so that future generations feel comfortable talking about reproductive hardships and life after. Her goal is to help women feel less alone, and instead, part of a robust global community of women. 
Check out the rainbow mama tees in our shop. Designed by @annerobincallig. Purchase yours here!
#IHadAMiscarriage #rainbowmama #rainbowbaby #miscarriage #babyloss #stillbirth #pregnancylossawareness #loss #pregnancyloss #grief #pregnancyafterloss #motherhood