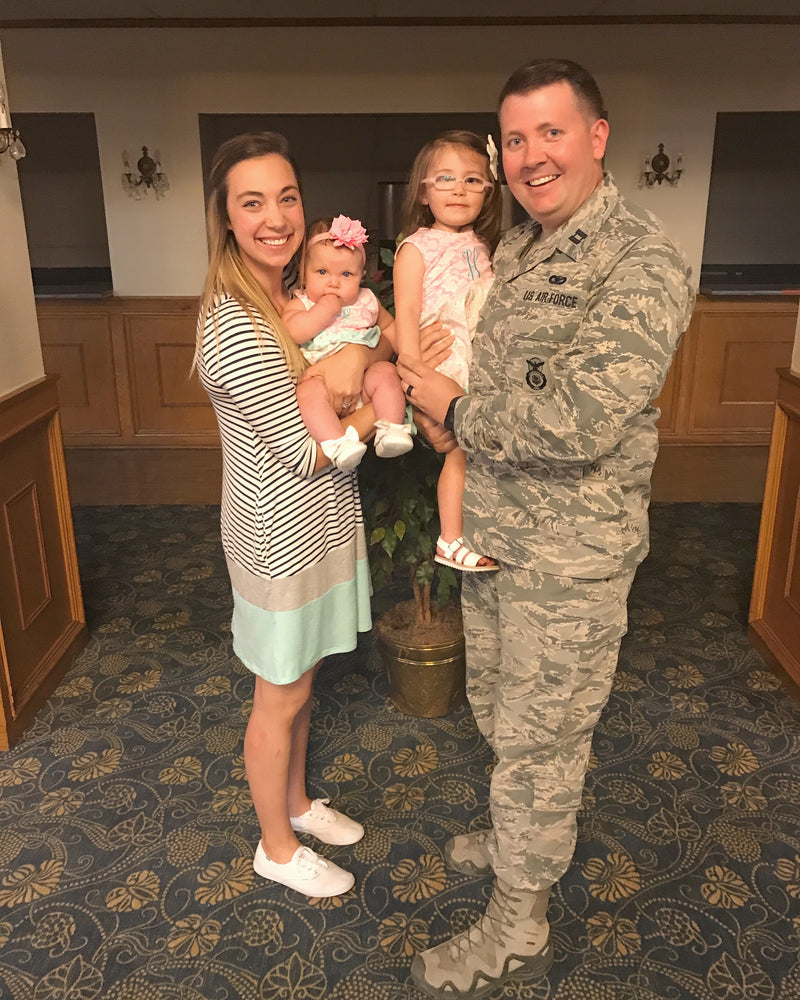 Currently sitting in my car waiting for Target to open while drinking my coffee and writing this blog post. I had to take our dog Chloe to the vet this morning for her teeth to get cleaned and my mom has the girls at my house currently, so it's just me, a super quiet car, and my thoughts this morning.
I just want to thank everyone for the messages, the comments, and the texts from yesterday. Y'alls support means the world to me. I'm going to shift gears to a totally different subject for this blog post today. I'm going to talk about military life and being a military wife.
Today I'm tired. Hadlee my oldest is having a really rough time with Daddy being gone this go around for some reason and isn't sleeping at night. She's only 2.5 and doesn't understand why Daddy has to leave and be gone for 'x' amount of time all the dang time. But she still has to sleep! Girl, I get it. I'm 26 and I miss Daddy too, but we need to be on some sort of normal schedule. Isn't that funny to say when you're a military wife? Normal schedule? As if there really is EVER a normal schedule when your spouse is in the military. I seriously want to laugh at myself for saying normal right now!
I know being a military wife is rough sometimes. Dependent what your spouse does, if they deploy, go on a ton of TDY's, y'all PCS all the time, etc etc etc there's so much to do and so many responsibilities you have to take on-whether you have kids or not. Then you add kids into the mix and everything goes haywire and there's no calm or peace when your spouse leaves-whether for a long time, a short time, or just for the day. Hadlee is a Daddy's girl apparently and him having to leave a lot is not sitting well with her. I'm literally counting down the days until Jeremiah is back so she can have a sense of normalcy back in her life again.
I think as a parents to military kids we often say that they're so brave, so resilient, and that they can handle tough things and tough situations. I'm not discounting that at all, but what I do want to say is I don't think we truly realize how hard it is to have a parent constantly in and out of your life due to the military.
What my husband does is amazing. He's an amazing man and has accomplished so much. In a way before we had Hadlee and Ember we knew things like this were going to happen, but I don't think you fully realize the extent of what is going on until you're actually in the situation your going through, and how hard it is on your children and you. We can go days or weeks without talking to Jeremiah. It seems like the days Hadlee does talk to her Daddy though, things shift and she acts up. I just want her to understand that this is our life and there isn't much we can do about it. We have to be proud of everything Jeremiah is doing. We have to support our country. We have to support the military. But that support comes at the price sometimes of my young child crying and reaching for her Daddy in her sleep even though she knows he's not there.
And maybe we should even dive a little further and talk about how it's sometimes extremely hard to have a career while you're living the military life. Our second duty station I tried for MONTHS to find a decent job. I had a college degree, management experience, the whole nine yards-but the city we lived in was very small and there wasn't a ton of opportunities for me there unfortunately. Needless to say I became a stay at home puppy Mom until I became an actual stay at home mom to a human child. Then when you finally do have this perfect human child or your pregnant-guess what? Your spouse leaves for 7 months and come home 3 weeks before your baby is born. And then leaves multiple times in her first year of life for trainings and TDY's and just overall works long hours.
Being a military family is hard sometimes y'all. But it's so worth it. In no way right now am I complaining about the life we live. We're honored to live this life. We're proud to live this life. We support our country. We support the troops-no matter what. Heck, even my brother in law is in the military and I have a ton of friends who have served or are currently serving in the military-so when I say I'm dang proud of this life I live, I mean it with my whole heart.
What it comes down to for me, is the way it effects my children. They don't understand fully. I mean Ember is so freaking chill. She'll literally look at Jeremiah over FaceTime and smile, say Dada, and be on her merry way. She actually did finally show him yesterday how to knows how to WALK! We've been trying to show him for a week and she wouldn't do it for him and finally showed him yesterday. Yay Ember!!!!! But Hadlee has more understanding of what is going on and how her Daddy isn't present right now, and it's hard for a 2.5 year old to not have her Daddy be with her every single day.
What we're going through is temporary. He comes home soon. But I have family members who will be deployed until next year-they have families. They have small children. Imagine how it feels to read your child a book over a video or FaceTime? See them take their first steps over video chat? Hear there first words in a video your spouse sends to you? Or even see pictures of their very first day of school? Imagine what these men and women who are in the military sacrifice for our country on a daily basis. This isn't an easy task they signed up for. They're literally risking their lives every single day and potentially leaving a family behind because of the love they have for their country is so strong.
All I'm saying is being a military family has its ups and downs. We move a lot. We see a lot of different places and things. We have family and friends in all corners of the world that we love, care about, and worry about on a daily basis. We miss weddings, birthday parties, the birth of our best friends baby because we just can't be there because of this life we live. All my best friends literally live in different states-and not one of them lives in the state I'm currently living in. We've experienced and will experience such high highs and such low lows. We get the whole range of emotions in one day sometimes. Especially when your spouse calls home and says "hey we're PCSing overseas in 4 months" then you get a call from your child's neurosurgeon that same day saying "oh hey, she has to have spinal cord surgery ASAP" and then the military is like "just kidding, we're actually rerouting you to a stateside base in 3 months because of your child". Well ok then.
Plans literally change on the drop of a hat-not joking. But this life is something I wouldn't change or give up for the world. I'm proud to be a military wife, and I'm dang proud of what my husband does for his family and his country every single day. It's hard. This life isn't for everyone, but anyone who lives this life would agree with me when I say it's an adventure every single day. I know my girls don't understand right now, and it's hard and it sucks for them, especially Hadlee. But one day she's gonna realize how amazing it is to be a military child. To grow up knowing people all over the world; To have the gift of travel, of little toys and trinkets from far away places, money that you can't even use in the United States but you have a few bills from different countries your Dad has brought home to you.
Being a military wife is hard. You handle the home front. You take care of the bills, the kids, the dog, the house, etc etc etc. and you miss your spouse with your whole heart when they're gone. And when they're here, you cherish every moment. If you're a military family my heart is with you. We know your struggles. We live them, but we're literally this huge family and none of us have to feel alone ever.
I really urge any military wife to get out there and make a friend-like a best friend you can take with you in your heart wherever you go-even if you never end up at the same duty station ever again but you'll still talk to them for the rest of your life because they understand. Join a club on base-the officers spouses club, enlisted spouses club, FRG, something. Be a Key Spouse. Somehow get involved so you don't feel so alone living this military life.
My heart goes out to every single military family. You're in my thoughts and prayers every night. May God watch over you and keep you safe and your spouse safe-where ever they may be. And please, always be proud to live this life. It's hard and it's messy and it's not perfect by all means, but it's the life we live and the land of the free. God bless!
-Codi B.