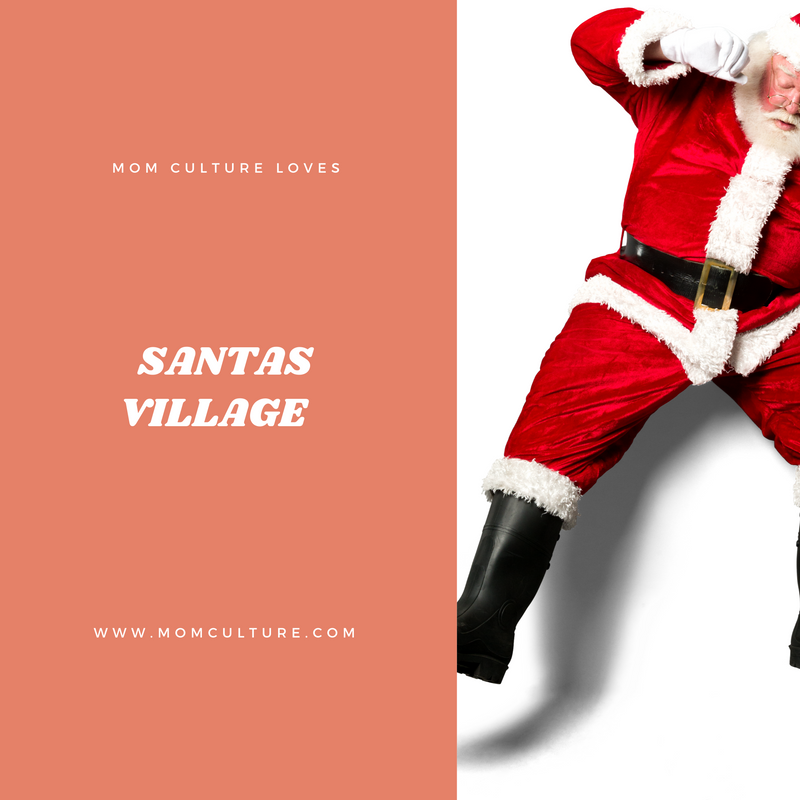 Where can you take your family to see all the magic that Christmas has to offer and escape to the mountains just an hour away from Los Angeles? 
Santa's Village, that's where!
As an annual family tradition, we love attending Santa's Village! Not only is it an excellent place for the tiny humans, but mama and papa enjoy their visit to this magical land. Nothing gets us in the "Christmas Spirit" like a family day-trip to Santa's Village. This will be our fourth trip up, and it never gets old.
This, genuinely magical experience has something for everyone, and the best part is that it's all included (some exclusions like food and tea parties).  
You can experience outdoor ice skating, zip-lining through the village, a magic show & puppet show, storytelling, tree lighting, and so much more fun that the holidays have to offer in one beautiful location.  
Did I mention seeing Santa too?
Yes, your little ones can even have a special hearty breakfast with Mr. Jolly himself or they can have a tea party with Mrs. Claus and decorate yummy cookies with Santa's Elves.
For information on booking these extra experiences head here
To be honest, with the age gaps between my kids and their cousins, it can be hard to keep everyone engaged and happy, but at Santa's Village, it's easy. The teens are all about the zipline, and now with the ax-throwing, I'm sure that's where we'll find them if not, they'll all be on the ice skating rink skating the day away.
The younger ones are so into the shows and the bike riding on trikes that it's hard to get them to stop, but if you mention the train ride they're sure to turn in their helmets to ride through the village so Mom and Dad can have a hot cocoa break.  We have a hard time getting them off the Discovery Playscape but, honestly, we don't mind! There's normally tons of seating to sit and enjoy your coffee or hot cocoa and fresh air while they run around and explore.  
When it comes time to eat, our favorite spot to warm up and fill up is definitely Billy's BBQ House it's DELISH! But, make sure you make a reservation for your trip because it gets packed quickly! They offer a few other spots to eat which are equally yummy from burgers to brew, they've got your jolly tummy covered.  A must-see is The Gingerbread House Bakery & Sweet Shoppe for a treat for everyone on the nice list.
This magical day trip has now become our family tradition with the cousins, taking time out of our busy schedules to all meetup and to share in the magic of Christmas together in the mountains. Since we have eight children between the three siblings, this is the perfect experience to share without breaking the bank!
I hope you check it out and enjoy the Christmas magic with your family too!
Skypark Santas Village is open From 11/21/19-1/5/20
All day pass
All-inclusive, excluding food
 Purchase tickets online here for $59 (adults) and $49 (children)