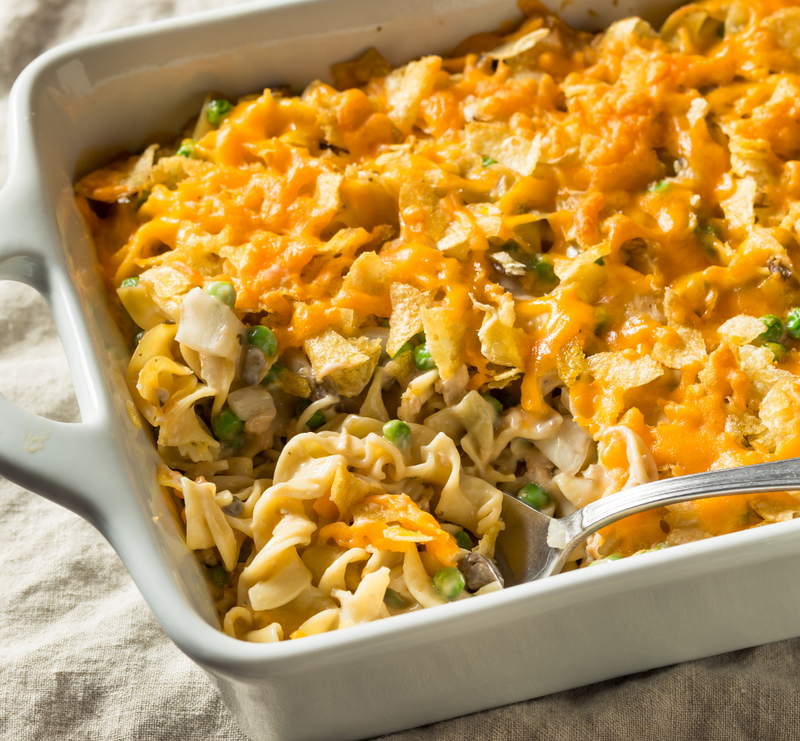 If you're looking for a delicious and comforting meal that's easy to make, look no further than my mother's tuna noodle casserole. This recipe has been a staple in our family for as long as I can remember, and it never fails to bring a smile to my face.
To make this casserole, you'll need:
1 bag of egg noodles

2 small cans of tuna

1 can of Campbell's cream of chicken soup

1 can of Campbell's cream of mushroom soup

1 stick of butter

2 cups of milk

Salt and pepper to taste

Tillamook cheese for topping

Sour cream and cheddar ruffle chips

Casserole Dish (I use a Pyrex 3-quart 9x13)
First, cook the egg noodles according to the package instructions, and preheat your oven to 375°F.
In a large pot, melt the stick of butter over medium heat. Add the cans of cream of chicken and cream of mushroom soup, and stir to combine. Gradually add in the milk, stirring constantly to ensure a smooth sauce. Season with salt and pepper to taste. Drain and add both cans of tuna to the mixture and break up tuna pieces to combine well.
Add the cooked egg noodles to the pot with the sauce, and stir until the noodles are fully coated.
Transfer the mixture to a greased baking dish, and top with shredded Tillamook cheese and crushed chips (I do two layers or each). Bake in the preheated oven for 25-30 minutes, or until the cheese is melted and bubbly.
When the casserole is done, let it cool for a few minutes before serving. 
"Appreciare the food your Mother cooks for you. Some don't have food others don't have mothers"-UNKNOW
This tuna noodle casserole is the perfect meal for a cozy night in or a family gathering. It's easy to make and always a crowd-pleaser. Give it a try, and let me know what you think!