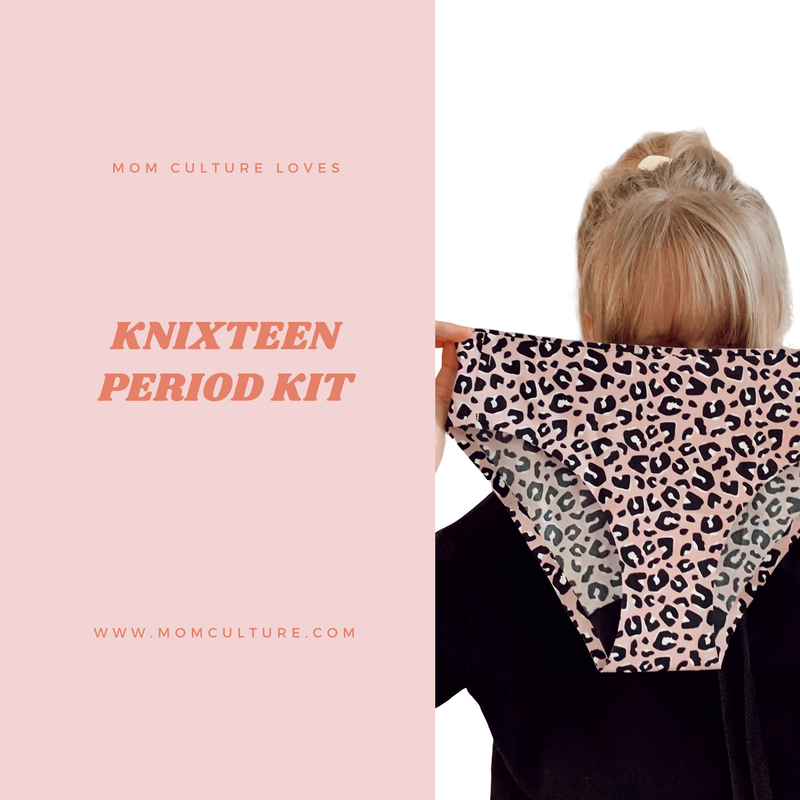 It's no secret that we love Knix here at Mom Culture, and now that our daughters are both approaching young womanhood and the period years, it's been a no brainer that KnixTeen is on our radar for them!  
If you think back to those early years when you first got your period, it's pretty awkward, to say the least, am I right? I felt underprepared and never confident of the protection pads offered and the ill-fitting underwear I wore. I was always terrified of leaks happening and the social aspect of it because heck we just didn't really talk about it back in the day, did we?  
Now with the normalizing of periods, I feel there is finally better conversations, and products for the next generation of girls, my daughter included, to have confidence and feel more secure during that time of the month. This mom couldn't be happier to join that chat and help build a solid foundation for the next generation with the help of brands like Knixteen.
Knixteen is offering young girls just that confidence with their fantastic line of period panties and kits to start the conversation.  
Are you wondering what period panties are and how they work?
KnixTeen

 

has absorbent technology in the gusset (that panel of fabric between your legs), which allows the underwear to absorb extra blood and moisture, preventing leaks!
Knixteens are designed to provide backup support when your tampon, pad or menstrual cup just isn't enough. Their undies hold 2-3 teaspoons of moisture (aka 2 tampons worth of blood), so they can be worn alone on lighter days of your period - just depends on your cycle.
Their 'Oh-No' Proof Underwear is seamless, sweat-wicking and odor-crushing. You can wear them under leggings and not worry about unwanted panty lines, or you can wear them during your workout to keep yourself smelling fresh as a daisy. Plus, they're super comfy. Basically, you can wear your Knixteens 24/7 if you want to - we won't judge.
2 Black 'Oh-No' Proof Underwear
1 Limited Edition print 'Oh-No' Proof Underwear
1 Black Sleepover Short
Canvas zippered bag to hold your kit
Stickers 
Girl Power Pin
Tween Review from our office managers 13-year-old daughter because tweens don't sugar coat anything LOL 
"I have learned in a few short months that having a period is not fun.  Apparently it's going to be around for a while so I better get used to it. Knix leak-proof underwear makes periods a little more bearable. They make me feel secure and protected all day. Especially at school where restroom breaks can be difficult to get. Before I found Knix, I had many overnight leaks. The sleepover shorts are amazing. No more leaks. Knix underwear are so comfortable that I wear them even when I'm not on my period.  I feel protected all day, and there's no greater feeling than protection on your period." -RJ
As we all navigate the new waters of 'Raising Tiny Teens' I hope these tidbits and tips help you as much as they've helped me.  This is new territory for this mama and with one daughter (two boys) I have one shot to get it right and finding products that make my job a little easier is so worth sharing!