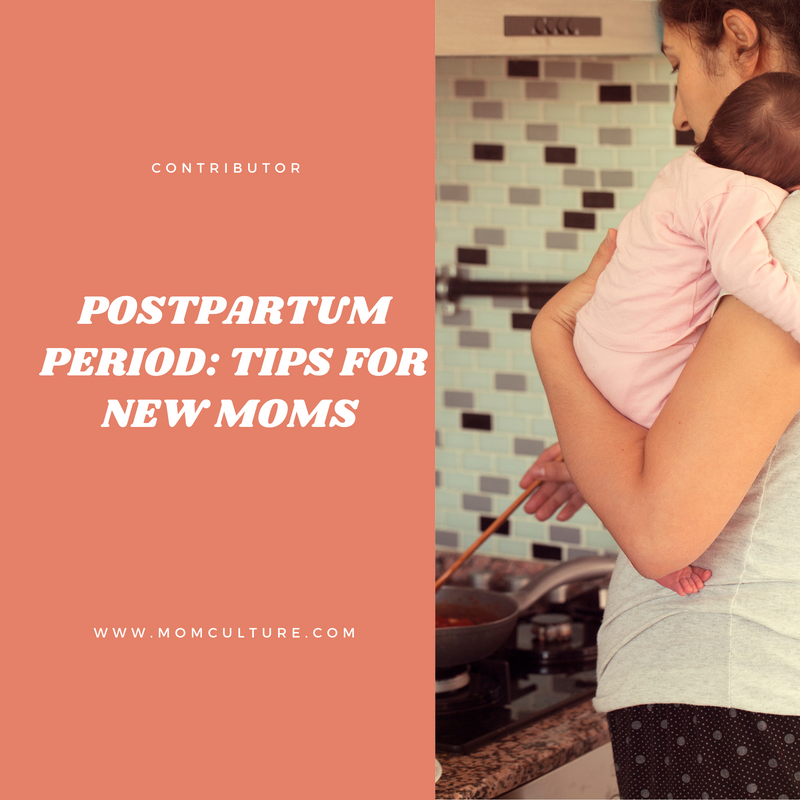 Adjusting to life after the birth of your child can be challenging, especially if you're a new mum. For the first few weeks, your baby needs to be constantly fed and changed which means sleepless nights and exhausting days. All these changes can be quite frustrating and you might start to wonder if you will ever be able to follow a schedule again. The good news is that things will start to settle down and you and your baby will find a routine that suits both of you. Here are a few ways to ease your transition into motherhood.
7 Simple b

ut Effective

Postpartum Tips

for

New Moms
1.  Don't try to be Supermom
As a new mum, you want to be perfect because your little one deserves nothing but the best. The problem with setting unrealistic expectations is the fallout from failing to meet them. You quickly feel guilty and frustrated and start down that slippery slope to mommy burnout. Instead of expecting too much of yourself, focus on bonding with your baby and simply enjoy this time together.
2.  Designate or eliminate household chores
Many hands make light work! The simplest way to get the entire family to help, is to turn housework into a game. This works really well if you have two or more children. Turn on the music to get everyone in the mood and have specific targets for each child. You can supervise the work while enjoying a cup of coffee or your favorite fruit juice. Look around for ways to eliminate chores – for example, you won't need to do the dishes if you switch to bio-degradable disposable plates, at least for the first month.
3.  Exercise daily
As a general rule of thumb, you should wait for about 6 weeks after your delivery to return to the gym. By this time, you will probably be sleep deprived and tired and the last thing you will want to do is exercise. However, studies show that regular exercise during the postpartum period reduces the risk of postpartum depression. Talk to your doctor before you start a postpartum workout plan and start slow but keep at it.
4.  Have regular meal times
Newborns nurse up to 12 times a day for the first month and you can expect to change at least 10 diapers a day. Now add the amount of time you spend burping your baby, comforting him and putting him down for a nap and you will understand just how tough it will be to stick to regular meal times. Set specific times for your meals and follow a balanced diet as this will ensure that you get the nutrition you require.
5.  Schedule time to rest and unwind
As a new mom, you think that you're supposed to be filled with nothing but love and joy but that's just not how it goes. From sleepless nights, to breastfeeding problems and diaper rash – you need time to adapt to your new role. This is why you should pencil in some time on a daily basis to simply rest and center yourself. The best time to schedule this alone time is just before or after dinner when your husband can bond with your baby while you listen to music, meditate or practice yoga.
6.  Don't hesitate to ask for help
The first few weeks of parenthood are physically and emotionally overwhelming as you are still recovering from your delivery while simultaneously learning new parenting skills. You might feel ashamed and awkward to ask for help but you need to work past this so that you can get the help you require. If family members or friends offer to help, accept their assistance graciously and give them multiple choices so that they can take up the chores that fit into their schedule.
7.  Don't put your health on the back burner
Pregnancy is a time of great physical change but these changes don't stop once you've delivered your baby. Immediately after the birth of your baby, your entire body will feel bruised and you are likely to experience uterine pain and vaginal bleeding. Most women also suffer from hemorrhoids during the last months of their pregnancy and this will take some time to heal. Don't ignore your health issues and talk to your Ob-Gyn about treatments for hemorrhoids and other problems that you are facing. Ignoring minor issues can lead to more serious health problems so make your health a priority.
Prepare for your postpartum period but keep your plans flexible. You don't know how long it will take you to heal or whether your baby is going to be colicky so accept that it might take longer to find your new normal. Motherhood is one of the greatest adventures life has to offer; may you enjoy every step of the way.
 Authors Bio: Anita Fernandes has been writing extensively on health and wellness for over a decade. She has expertise in nutrition, fitness, public health, and weight loss and has contributed content to a variety of leading digital health publishers. Anita has a unique perspective on healthy living and lifestyle,as she has battled and overcome chronic back pains. She shares her experiences in an effort to help others overcome the physical and mental health problems that can sometimes seem insurmountable.