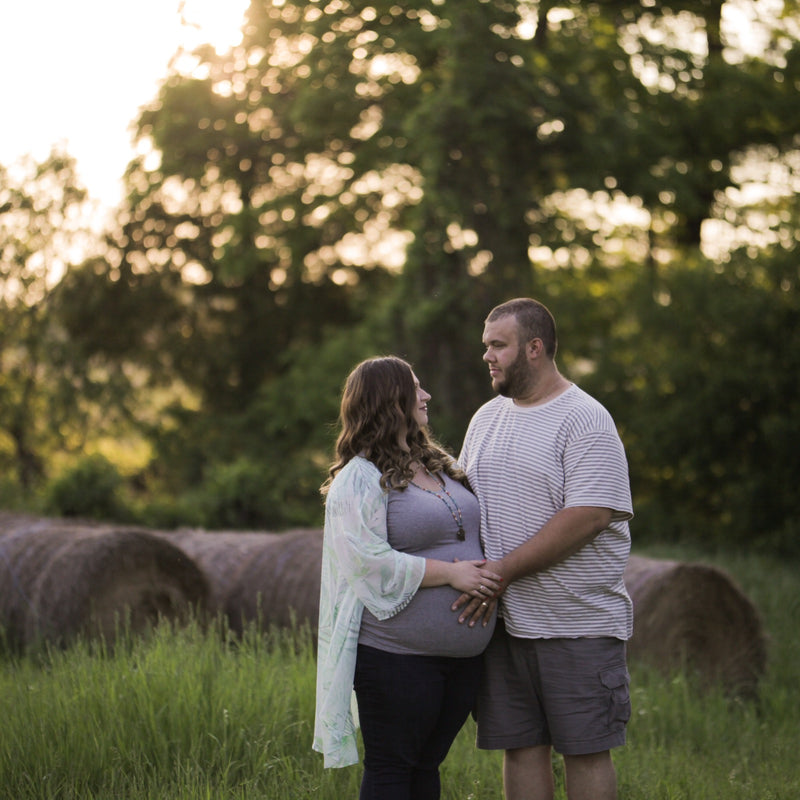 I had a miscarriage.  I battled infertility.  I am a rainbow mama.  This is my story.  
In a whirlwind of romance and wishful thinking, my husband and I decided to start trying to start a family right after our wedding.  It would be fun.  It would be exciting.  My dreams of becoming a mother would come true right away.
The naivety of that first cycle wore off pretty damn quickly.  The timeline of those first few cycles goes a little something like this:
November 2016—First cycle trying to conceive.
December 2016—No period, not pregnant.
January 2017—No period, not pregnant.
February 2017—No period, not pregnant.  Proceed to panic and make fertility appointment.
March 9, 2017—First appointment with 'fertility specializing' OB/GYN.
March 25, 2017—First round of letrozole/trigger shot cycle.
April 18, May 5, May 29, June 27—Letrozole/trigger shot cycles begin.  
July 17, 2017—Positive test!
August 9, 2017—Heartbeat seen.
Two and a half weeks later, we found out that heartbeat had stopped merely 2-3 days after that first ultrasound.  I had been experiencing some spotting, so I emailed my OB and he got me in that afternoon.  The spotting turned progressed to small clots a couple hours before the appointment.  I made my husband leave work early to meet me at the office.  We went in, I got undressed, and had yet another internal ultrasound.  The silence in the room felt like an eternity.  I watched the screen.  I knew what 8-week, 6-day ultrasounds looked like—the screen I was seeing did not look like that.  I turned away and stared at the ceiling, crying.  After what felt like half an hour (likely one minute), my doctor said, "Nicole, I'm so sorry".  We were given a few options and I opted to take the misoprostol pills—one dose vaginally and the remaining doses orally.
There is no way to prepare for the aftermath.  I was one of the unfortunate ones who felt full blown labour with the medication…I had 8 hours of contractions, 2 minutes apart, one minute long each. The pain was unbearable and all I had were some acetaminophen tablets with codeine that my wonderful mom had bought for me from the drug store.  The embryo passed.  It had distinguishable fingers and legs.  Again—no one prepares you for this.  
I should mention at this point in the story that my sister-in-law was pregnant, and our due dates were a mere few weeks apart.  To say I was bitter, jealous, and downright grumpy would have been an understatement.   
The first cycle trying to conceive again—as soon as my HCG levels had returned to 0—was so hard for me.  If I'm telling the truth, so were the next 3.  I was so desperate to conceive again.  I clung onto every bit of hope we would get pregnant again.  I did and felt some pretty crazy things.  I drank 1-2 litres of fertility tea each day, spent over $2000 on acupuncture, meditated, had reiki treatments, became certified in reiki so I could do self-treatments, saw a psychic, and ate different seeds depending on the phases of the moon.  I attached myself to a religion I had never believed in, just in case that would help me get pregnant—because I was being told over and over again that God had a plan.  To which all I wanted to respond was, "my baby dying was a part of God's plan?" Wonderful. 
On December 3, 2017 we found out we were pregnant again.  Then I realized how terrified I was to be pregnant again.  The anxiety worsened every day.  What IF I started bleeding? What IF the baby stopped growing again? What IF we never get our rainbow?
I told a few close friends and family in the early days.  In response to those congratulatory statements coming my way, I could never genuinely say "thank you"—what IF I jinxed something? The night before each early ultrasound (6, 8, 10, 12, 14, and 17 weeks) I would spend wide-awake crying in bed.  My husband reassured me it would be okay. And it was.  
On July 30, 2018, we welcomed our rainbow baby boy Anderson Ralph Lemke into the world at 9:04 p.m.  We arrived at the hospital for our induction appointment only to find out that our baby's heart rate was too high—he was in distress.  Before the doctor could even start the induction process, I was swooped into the operating room within an hour of showing up to the hospital.
I've heard most people get cold in the OR—I was HOT. My glasses were fogging up and I was sweating. My anesthetist kept getting me cold facecloths for comfort (and to prevent me from passing out). She was from India and talked me through deep breaths, comparing it to yoga. I'm not sure what kind of yoga involves your stomach being ripped open while awake, but I fell for her tactics and calmed down.
Anderson was lifted out of my stomach with the relieving sound of that first cry starting immediately.  I was finally a rainbow mama.  We had so many skin-to-skin snuggles.  There is so much appreciation and emotion in those first few days as a rainbow mama.  Pulling those memories from my foggy-at-best brain, I can still feel the immense love and comfort I felt holding my rainbow baby.  I remember not wanting our nurse to help me out during that first night—I just wanted to hang onto Anderson.  But alas, she caught me dozing off with him in bed a few times and convinced me to get some rest.  Not to be cliché, but that first night felt like the weight of the world had finally been lifted from my shoulders. 
I love watching Anderson's personality develop and seeing him learn new skills.  The laugh he has when he sees our dog is absolutely hilarious.  When he's proud of himself he scrunches his nose and snorts in the cutest way.  He bum shuffles like a little gremlin crawling across our living room.  He loves snuggles with his rainbow mama. 
Miscarriage survivor, infertility warrior, and rainbow mama were never labels I asked to have, but today I wear them proudly.  I am using what I learned from these experiences to help others.  I write.  I provide peer support.  I listen.  Once I started talking publicly about our miscarriage, I was shocked at the number of women who reached out to me who had been through the same thing silently.  I feel grateful I can be a support when a friend, or stranger, messages me and is going through the acuity of a loss.  I will keep writing about and acknowledging our journey as long as it is helping another woman.  I consider it a blessing to be a part of the rainbow mama community.      
 ~~~~~~~~~~~~~~~~~~~~~~~~~~~~~~~~~~~~~~~~~~~~~~
Nicole is a blogger from Peterborough, Ontario.  She writes about her personal experiences with infertility and miscarriage.  She has a husband named Jeremy, a rainbow baby boy named Anderson, and an aussiedoodle named Gibbs.  You can catch her working on her side hustles, indulging in self-care, and meditating.  You can visit her blog at www.growinguprainbow.com and follow along with her journey on Instagram @_nicolelemke.