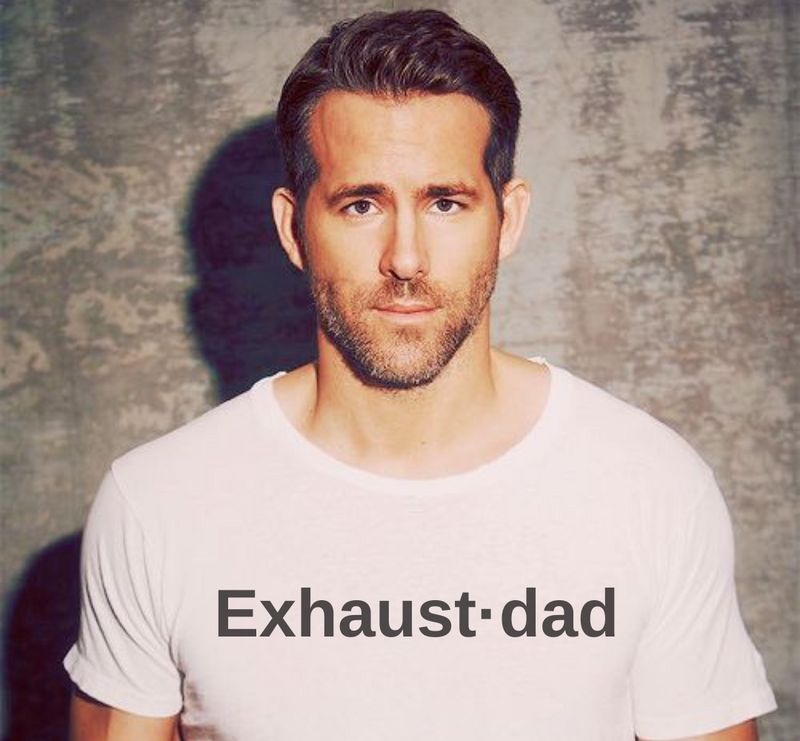 * note this image is for fun and has been photoshopped however we really would love to see our fave Daddy on duty Ryan in our ExhaustDad tee
From his hilarious tweets to his swoon-worthy movie roles, it's no secret that we mamas have a soft spot for Mr. Ryan Reynolds. But it's not just his good looks and charm that have us smitten—his role as an "ExhaustDad" and devoted family man makes him even more endearing. So let's take a mom culture moment to appreciate the many reasons why Ryan Reynolds is the ultimate family man we can't help but LOVE.
His Love for his wifey, Blake Lively
Ryan's love story with his wife, actress Blake Lively, is the stuff of dreams. From their adorable red carpet-appearances to their playful banter on social media, it's clear these two are head over heels for each other. Their Love and support for one another make them one of Hollywood's most adorable couples.
As a father of four, Ryan isn't shy about sharing his experiences with parenting. He's open about the ups and downs of being a dad, and we love him for it. His candid and humorous take on the joys and challenges of fatherhood is not only relatable but also incredibly endearing. Have you seen him tackle IKEA furniture? 
His Hilarious Parenting Tweets
You're missing out on some serious laughs if you're not following Ryan Reynolds on Twitter. His witty tweets about parenting often go viral, and it's easy to see why. He has a knack for capturing the absurd and hilarious moments of being an exhaustdad, making us all feel a little more connected in this wild ride called parenthood.
His Dedication to His Kids
Despite his busy schedule, Ryan always makes time for his family. Whether taking his daughters to the park or spending quality time with them at home, he's a hands-on dad who's not afraid to get dirty with diaper duty or playtime. I loved Blake's quote, " Daddy always comes home." 
Balancing Work and Family Life
As a successful actor and entrepreneur, Ryan knows the importance of balancing work and family life. He's spoken about the challenges of juggling a demanding career with being a present father, and he and Blake consciously prioritize their family above all else. Seeing a Hollywood power couple committed to maintaining a healthy work-life balance is inspiring.
Ryan's not just a great dad; he's also dedicated to giving back. He's been involved in numerous charitable efforts, using his fame to raise awareness and funds for important causes. His philanthropic spirit shows that he's a family man and a caring and compassionate human being.
Being A Father Is The Single Greatest Feeling On Earth. Not Including Those Wonderful Years I Spent Without A Child, Of Course"

-Ryan Reynolds
In a world where we're constantly bombarded with news about celebrity drama, it's refreshing to see a star like Ryan Reynolds who genuinely loves and prioritizes his family. His authentic and humorous take on parenting and his dedication to being a loving husband and father make him the ultimate ExhaustDad and family man we can't help but adore. As a brand, we would LOVE to see Ryan rocking one of our classic ExhaustDad shirts—it's #goals! Cheers to you, Ryan!
Do you have a favorite Ryan Reynolds moment or quote? Please share it with us in the comments below!