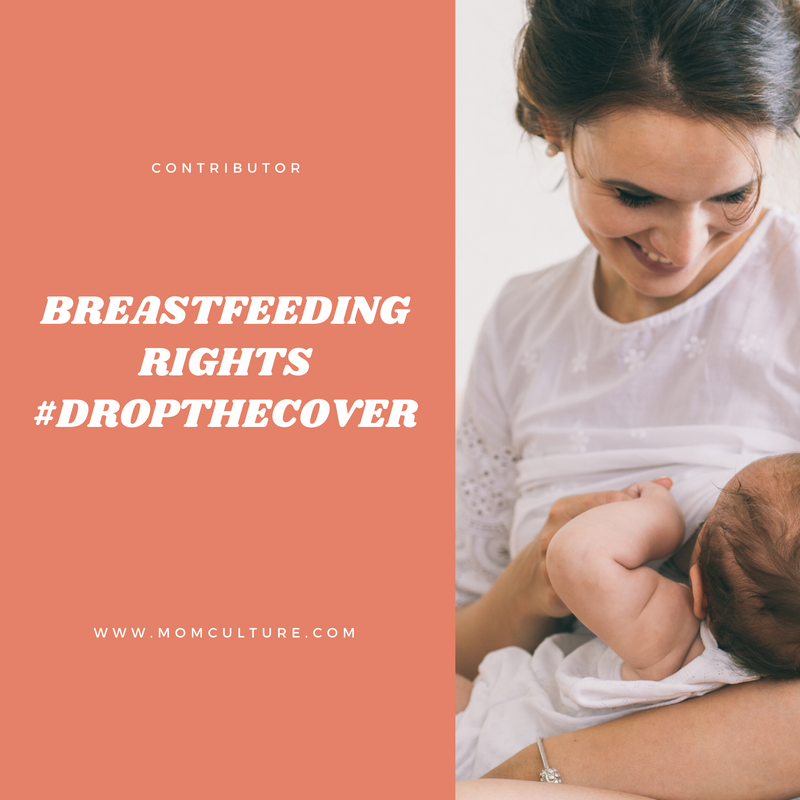 What are your rights as a breastfeeding mom? And feeding in public for the first time.
Hey guys it's Lindsay, owner of The Little Milk Bar. I'm here to talk all things breastfeeding.
Breastfeeding is hard… like really hard. It's one of those things that no one really talks about until you're in the middle of it, up at 2am in tears wondering if you're doing it right. Or wondering if your baby's getting enough. Throw in the fear of having to actually feed outside of the home, because let's face it…. you have to leave the house at some point. And you're on a whole new anxiety level. You just got her to latch properly, how are you supposed to do this in front of strangers?
I want to start off by letting you know that it's 100% legal for you to feed your baby in public, with or without a cover, in all 50 states. Yup, you heard that right. No longer are the days of moms feeding in dirty bathroom stalls, parked cars or dressing rooms. 
And no longer are the days of store managers asking you to leave and "go do that somewhere else". Major win for the breastfeeding community! 
Today I'll be informing you of your rights as a breastfeeding mom and getting over your fears of feeding in public for the first time. So if you're a breastfeeding mama, this post is for you. And I really hope you keep reading because it could change your life. No joke!
P.S. I'm all about supporting all breastfeeding mamas, because let's face it… we could all use a little encouragement. So I put together 3 FREE "Thank you for breastfeeding in public" downloadable cards that I hope you print off, keep in your diaper bag and hand out to every breastfeeding mama you see. You can download them HERE.
In 2018 Utah and Idaho (the two remaining states ) finally legalizing breastfeeding in public. Honestly, what the heck took so long?
As the last hold out state, Idaho sponsor Republican Rep. Paul Amador and father of then 5 month old son, called it shameful in this age that breastfeeding moms were offered no protection. 
"Personally, I find it disappointing that we're in 2018 and we still haven't passed this law in Idaho. I think we can take a proactive stance here through legislation to promote the natural bond and health benefits of breastfeeding for both mother and child."
It's about time the U.S. get caught up with the rest of the world when it comes to laws protecting nursing mothers. 
Okay, now that that's out of the way. And we now know we CAN breastfeed in public, let's talk about the stresses that come with feeding in public for the first few times. 
Most people don't care.
First off, I know it can be scary… reading all the stories in the news, or watching Facebook videos where people say all kinds of rude comments to breastfeeding moms. 
I want to set the record straight. 90% of the time, people don't care. 90% of the time, people don't even notice you're feeding your baby. 90% of the time, no one is going to give you dirty looks or walk over and say some snarky comment.
I've had two babies and breastfed them both. My second I fed any and everywhere I needed to, WITHOUT a cover for almost 2 years and only had ONE person say something negative, one!
Focus on you and your baby.
It's important to ignore everyone around you. Focus only on you and your baby. It's simple… your baby is hungry and you need to feed him. That's it, there's nothing else to it. Don't worry if you're "offending anyone", their opinion doesn't (and shouldn't) matter. 
Your baby comes before anyone else and filling that little belly of theirs should be the only thing you're worried about.
Lose the cover (if you want to).
The law states that you can feed your baby with or without a cover… meaning, you can ditch that nursing cover you got at your baby shower… if you want to. 
One of the things I hear most often is, "it's too hot for a cover, my baby sweats"... or "my baby always pulls down the cover, she hates it". Did you know that being able to see mom while your baby feeds is an essential part of breastfeeding (especially for newborns)? It's part of the bonding process, it's what makes them feel safe. They want to see your face while they're feeding. So when you put a cover over their face, it's not uncommon for them to cry or try to pull it down, they can't see mom :(
Some babies have no problem being covered, sweet!
But if they do, and you find it more of a hassle than not, then feel free to #dropthecover.
Try the 2-shirt method.
If you haven't already heard of the 2-shirt method… be prepared for it to change your life! No joke. It'll save you a TON on "breastfeeding friendly" clothes… spoiler, you don't need any. And it makes it SUPER easy to feed in public, keeping your tummy and breasts covered while your babe eats with ease. Easy peasy. 
I made a video so you can see exactly what the 2-shirt method is. Check it out below. 
They say the more you see of something, the more normal it becomes. So I've made it my personal mission to post as many breastfeeding pics as possible on our Instagram account @thelittlemilkbar_.
If you're looking for some more breastfeeding support… or just wanna hang out with some pretty badass breastfeeding mamas, you can check out our blog here with tons of breastfeeding tips & tricks, and follow us instagram.
And don't forget to grab our FREE downloadable "thank you for breastfeeding in public" cards here. Print a bunch off, keep 'em in your diaper bag and hand them out to all the breastfeeding mamas you see. 
"Use your voice even if it shakes… we have your back."
-Linds
Owner | Boobs Director
The Little Milk Bar (home of the Milk Maker tee & Boobs Baby Blanket)
Use code MOMCULTURE10 when shopping @elvie (valid through 11/6/19)