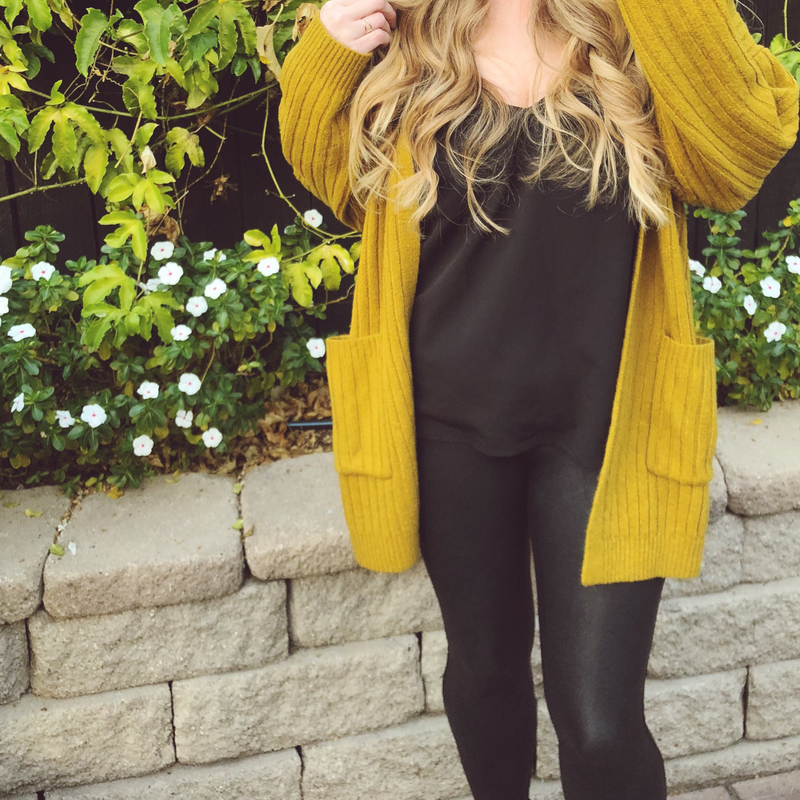 Last Thursday we finally made a big dream of mine a reality by hosting a #gatherthevillage event with the amazing The Village Magazine.  I promise to share all about it soon on the blog, but for now, I have to share the outfit details because I'm telling you my leggings and cardigan have been flooding my DM box with questions on where I got them, mamas.
I knew from the get-go that for our event I wanted to be comfortable and able to move around well in whatever I wore. Setting up the venue and then mingling with 20 plus ladies; not to mention, the unpredictable Temecula weather; I also wanted to have some layers on for the night's event.
I've been eyeing the Faux Leather Spanx FOREVER ladies, but I'm so dang cheap with myself I couldn't pull the trigger. But guess who could? My sweet husband did it for me.  He is such a gem and ordered two sizes for me to choose from surprisingly the mediums won which I would not have purchased for myself. I tend to buy things way too big; I'm working on that issue.  Let me say these are worth every penny of $98 and will be my staple fall legging with sweaters for sure!
For my top, I wanted a camisole in black to add a nice slim line with the faux leather leggings. I was short on shopping time, but I knew Target would have something and of course, they did!  I went with the Women's Crepe Cami by A New Day for just $17.99 it's perfect!  I also found a gorgeous burgundy velvet bralette for a POP of fall color and at only $12.99 it was the perfect score. TARGET DOES IT AGAIN!
The cardigan you've been asking me about came from Forever 21 for only $27.90 and the citron color is stunning add the amazing pockets, and it had me SOLD.  I topped the whole look off with a pair of $6 tassel earrings, I've been dying to try a pair, and at that price, I couldn't pass them up.
Because I did splurge on all these pieces, I didn't buy a new pair of shoes but went with a favorite pair of Michael Kors black suede ankle boots with a heel to complete the look!  I felt truly comfortable, pulled together and so relaxed in this whole look. The big bonus is all of these new fall wardrobe pieces can easily incorporate into other looks and have spruced up my fall game as a whole. 
Forever 21 has so many amazing cardigans for fall, and most are a steal at under $30, I scooped up a chunky mustard one too. Target's Universal Threads line has some great cardigans, which are currently in rotation in my closet from last season and a new navy one I recently picked up.  For me this fall, it's gonna be all about the leggings and layers for sure. 
XO, 
Sarah