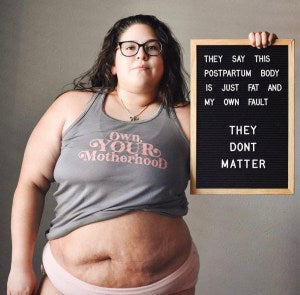 The beauty of our 'Own Your Motherhood' design is that it truly speaks to each mother in her own way and how she chooses to Mother.  There is no rule book or guide on how to do this jig–each family, child and mother are different–but at our core, we're all trying to have the same outcome to raise good little humans no matter how different our paths to doing that may be.
These beautiful mamas share about how they feel about Owning their Motherhood. Each submission is by a real-life Mom Culture Community member.
"I seriously love my "Own Your Motherhood" tee, tank, and coffee mug! I get the "Oh you homeschool? How long are you going to do that?" "Oh you breastfeed her still? How long are you going to do that?" I used to try and justify why I was doing something and for how long and then let them make me feel bad for it. Not anymore and this "Own Your Motherhood" line is a perfect reminder!! Thank you sooooo much!!!!"
-Jamie Lantron @lantronpartyof7
"Today I admitted to my socially shy five-year-old son that I am just as scared of people as he is. (I'm just older and experienced at hiding it.)
He was extremely nervous to go to Kindergarten Orientation this morning & be alone [for an hour] with the other rising kinders and a couple teachers to check out what class is like… meanwhile, I was to be meeting with the other parents and Admins. So, to encourage him, I confessed to him that I was worried about having to walk into a room full of other moms and dads that I'd never met before. I was gonna have to drag my socially anxious butt into school just like him & just own it. Even though I might feel like those other parents are judging me or comparing or looking down on me… I was going to just make it okay.
And then I realized that owning your motherhood isn't so different from being a hesitant five-year-old. It's about accepting your parenting style, your flaws, mistakes, wins, losses, panic attacks, tears, laughter… and saying, "This is who I am. Take it or leave it" and then pouring yourself another cup of coffee.
•
So, in the end, we promised that we would help each other be brave and walked in together hand in hand. I wish life could be like that always."
-Quin McConnell @qm_mcconnell
"I was recently so honored to be a featured image on a beautiful postpartum video by @mother.ly. It felt amazing to be a plus size postpartum body that was featured. And yet, no longer to my surprise, I still received a comment about how the bigger woman needs to be honest with herself about how after gaining 35 pounds, it's my own fault.
.
I've lost count of the number of times I've been told something along these lines. They tell me I was fat before I got pregnant. They tell me that I shouldn't refer to my body as a postpartum body because I don't have baby weight, I'm just fat. They say I should be careful raising a child to think being fat is okay. The list goes on. But all of our bodies are so different. All of our life stories are so different. There will never be a time where you can simply glance at someone and know everything about their body and their life. So no— we don't need to believe what they say. We don't need to hide and feel ashamed because they tell us we should be. We don't need to feel depressed if we gained more than 35 pounds during our pregnancy or if we struggle with our postpartum weight. We don't need to feel judged by whether we workout or not. We can love ourselves hard in however we navigate through motherhood and are allowed to feel happiness and joy while we do it.
.
Because these judgmental opinions of us don't matter.
Our stories and our bodies are valued.
So raise that chin up with me, mama, and own your postpartum body and your motherhood.
We are beautiful.
We are worthy.
We are mothers."
-Meg Boggs @meg.boggs
Want to join our Mom Culture Community? Click this link and ask for an invite.