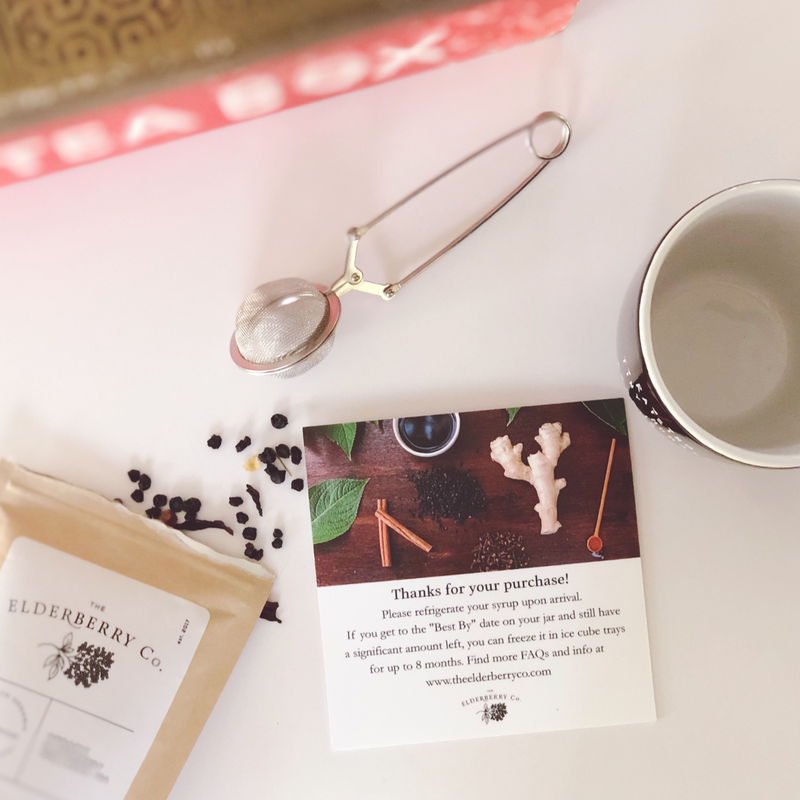 Summer colds are no fun, and they can put a major damper on fun in the sun. If you're like me and are trying to keep your tiny humans' immune systems up this summer season, you'll love The Elderberry Co. as much as we do!
I'm a little late to the Elderberry game, I must admit, but with a really rough winter season and two out of three kids having asthma, I'm hopping on the bandwagon now. Mama is a believer and those yucky germs aren't gonna stop us this summer.
So what is this magical berry all the moms have been telling me about?
"What is elderberry syrup, and why do you keep hearing about it? Come cold and flu season, it's usually a pretty popular topic because elderberry syrup is a highly effective combatant against colds, flu, and allergies. And our elderberry syrup is in a league of its own because of the RAW LOCAL honey we use to sweeten it. Between the anti-inflammatory and anti-viral properties of the elderberries we use, as well as the natural enzymes and immunity-building benefits of raw, local honey, our organic elderberry syrup has become a household staple for our customers and their families, keeping them healthy during those colder months of the year." -The Elderberry Co.
Not only do we love this company's product, but we also love their mission to help children and victims of human trafficking by donating a portion of their proceeds to Safe Passage Inc.
Safe Passage, Inc. was formed in 2018 in response to Kentucky's need to open a shelter for sexually-trafficked and exploited children. "Today, Kentucky is annually identifying over 200 trafficked children in our state. 94% of these victims already have a history with child welfare, telling us our most vulnerable children are at serious risk of becoming trafficked. Youth who are homeless, runaway, poor, abused, and neglected are most at risk for the worst things in life, including continued poverty, abuse and even trafficking. We face a reality where these unfavorable (and uncontrollable) socio-economic factors tie directly into child trafficking. Traffickers prey on these children, those who come from unstable homes, are looking for an escape, and are vulnerable and desperate." 
If you're like me, you remember to take care of the kiddos but tend to forget about YOU. I'm a big tea drinker. So, their Organic Elderberry Wellness tea is the perfect answer for this busy mama in need of an immunity boost.  
 Bottoms up, ladies & littles! Here's to staying healthy this summer season. We love shopping with brands that not only help to keep our tiny humans healthy but help keep those in need to stay safe from harm with their charity work!  
For a limited time, use code MOMCULTURE15 to get 15% off your first purchase at The Elderberry Co.
Code valid through 7/31/19
 XO,
Sarah