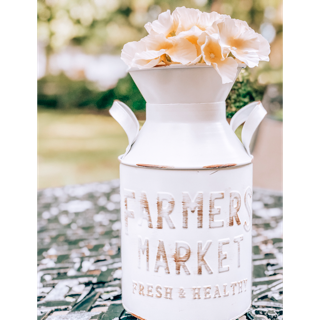 If you are looking for me, you will probably find me in the middle of the Farmer's market perusing the freshly baked bread or grabbing all the yummy, locally-grown fruits and veggies. In the past few years, I have really found myself falling in love with the atmosphere of markets. It's become a weekend tradition of bringing the family (and our sweet Golden) to the markets and sipping on some fresh juice or specially made coffee, stocking up the fridge, and finding all the local artisan goods that vendors are selling. My favorite part is talking with the vendors and hearing their stories. It is so beautiful to hear about their passion behind their goods and their reasons for being there. Some come to share their talents and artistic abilities, while others are there as their weekly income to provide for their families. Each booth has its own story, but together it makes up a community of local small shops. When I went to my first farmer's market one Saturday morning, I saw a sign that really made me fall in love with this type of shopping. It stated the "Farmers Markets brings community to your life and love in your products". This spoke volumes to me because I saw my neighbor down the street selling her homemade local lavender honey, my favorite bakery with the best French baguettes and sesame seed bagels, and a variety of vendors selling the ripest veggies and fruits that I just wanted to devour before I even got home.  I've shortened my list at the grocery store and found myself buying lots of my produce from the local farmer's market. By doing this, I have found a lot more color in my foods, small shops thriving in town, and a sense of community that we all long for. It's a unique way to give back, find yourself, and appreciate what you buy. You see what goes on behind your goods unlike the grocery stores and shopping malls. You see the love of the vendors and the products. You find items that are seasonal, personal, and comes with a story. Farmer's markets come in all sizes and styles, but they all create a community. Whether you visit a small field with tents and vans pulled up to them stacked with goods inside or an inside hub with unique vendors, each visit provides a unique experience that leaves you with a smile on your face.
What are the benefits to Farmers market?
Organic/Chemical-free food – Many of the vendors are selling locally-grown products that they have grown themselves. They are not using certain pesticides and fertilizer that some companies may be using to mass produce. Did I mention they are super fresh, colorful and bring life in the kitchen? As I shop at markets, it teaches me to expand my horizons in my recipes and try new things. I have made specialty pastas, new soups from different veggies, smoothies and juices that are just the right amount of sweet to tart, and I know that they aren't processed. It's made my lifestyle change for the better.
You are supporting local small business- bettering your community.
                Some people want to share their talents with the world, but they either find themselves at a desk job and don't have the time while others have amazing products but lack the ability to run a business, rent out a building, or hire a staff and handle overhead fees. You also have those that love the freedom to travel town to town to different markets and meet new people. No matter the reason, as you shop at these markets, you are benefiting these small shops by purchasing from them compared to going to the store and helping large corporations.
A fun weekend activity! Many farmer's markets have very interactive booths for the kids to do special activities, you can shop new finds (almost like thrifting – never know what you will find) and it gives you a fun activity during the day. You get to visit all the booths, hear the stories behind products, and find new items that you might not find on the shelf at your local department store. If you bring the kids, they are learning about cultural differences and you can teach them to appreciate the goods. My favorite shops are the ones with the graphic tees that are made from your little boutiques or the floral shops that have their fresh cuts. Nothing is better than bringing home fresh flowers to fill in your home.
Farmer's Markets are growing all over the world. Each one is different and unique, but they bring the same joy each and every time. I love the idea of not knowing what I am coming home with – that's the experience of a market.
XOXO,
Jeana
 ~~~~~~~~~~~~~~~~~~~~~~~~~~~~~~~~~
Jeana is a lifestyle and motherhood blogger from the site Winsomely Chic. 
She writes about fashion and motherhood along with her 2 sisters: Jenna and Jessica.